Event templates are a great option for having one central way to manage the registration and data collection for a specific event or experience to be applied to many groups, classes and programs with one way to bringing all the data together.
Note: All templates and clones will be private events.
In the case you have more than one template, you can manage all of them by navigating to "Events" -> Manage Templates as shown here:

On Manage templates you'll be able to review high-level stats on each specific template and how many clones exist per template and the total number of registrants per template. In the instance where you want to update the details, clone, delete, archive or duplicate, you can do so by clicking on the "actions" section so you can immediately apply that action to the specific template.
In the instance where you want to clone a specific template to one or many groups, courses, and programs you will see the following:
Note: When selecting Administrators, the default options are either the current admins of the selected groups/courses, affiliates, or the current admin of the template you are cloning from. In the instance you want to set up new admins for each clone, after creating the clones, you have the opportunity to navigate into the specific clone and update or edit the admins.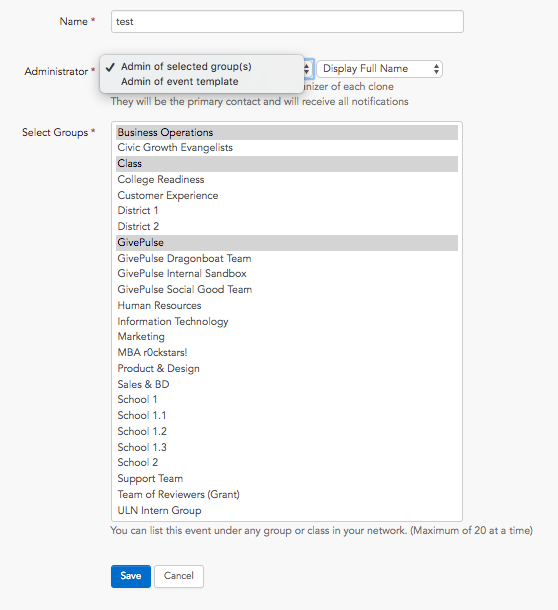 After creating the clones, you will be able to navigate to each one by using the Manage Clones option:

Within the clones, you will see the registrations, users, documents, etc. that only pertain to that specific clone.