Managing Group Roles exists on the "Manage Users" page. Each user can have specific roles. Depending on the size of the group, if it's a network of groups, or a subgroup (node) in the network, the roles will be applied downwards. 
e.g.,
If Joe is admin of parent group A, and A has 2 subgroups A1 and A2, Joe can oversee both A1 and A2. 
If Joe is admin of subgroup A1, but wanted to oversee parent group A, he is unable to because he is not an admin of group A.
The following are roles you may see applied to your members, notice they can have multiple roles applied to them. 
T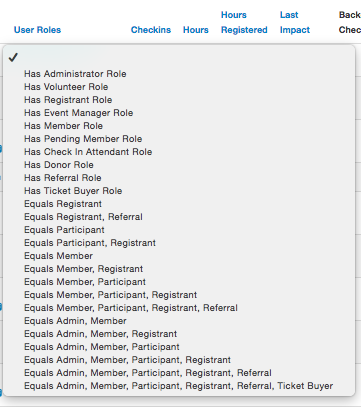 Applying roles: To apply the (admin, event manager, check-in attendant, and member) role you would go to the actions column and apply it to the specific user in your group.
As you may have noticed, there are specific roles the admin is unable to "force" apply; these include volunteer, registrant, donor, referral and ticket buyer. These roles are only applied when the user "volunteers and makes an impact," "registers to an event," "donates to a cause," "was referred by another cause," or "bought a ticket."