There are many instances where you may want to set up a fundraising campaign or have general donations. 
In order to set this up and allow people to donate, you must set up your account's bank settings. You will need your tax information, bank routing numbers and account holder information.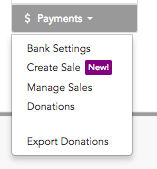 Every donation that goes through the system, there is a credit card processing fee managed by Stripe (as mentioned below). Note: all donations are automatically aggregated directly to your bank account within 3 days.
Further information about setting this up is located in the Donation & Fundraising article of the support documentation.
Once the settings are set up, you may create your donation campaign by filling out the basics and selecting the event to be the "Fundraising" type. 
Post Donation Thank You Page: This is important to fill out so you may provide information to your donors for tax receipt purposes and to thank them for their support.