There are instances where existing users and members of your network or group are no longer active or you choose to temporarily inactivate them. GivePulse enables you the administrator to "archive" an existing user so that the data is still saved for your data collection purposes and it removes access for this individual.
To archive user(s):
Go to your group's dashboard → Users → Manage Users → Actions → Archive member: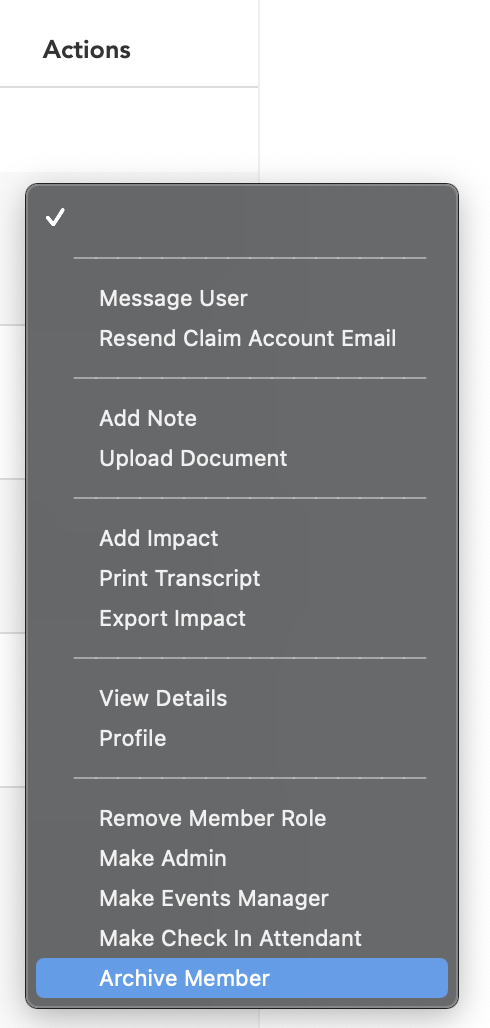 An archived user:
Is no longer a member of the group, which will remove them from group message lists and also makes it so they can't see private groups and can not view private events
They will not be listed on the public people page

Note that an archived user can always request to become a member again

This action removes member from Manage Users but they remain in Manage Memberships as archived

Archive action removes the roles:

Member

Manager

Check-in attendant

Admin

And sets the role Archived
To view archived users go to
Users → Manage Users → Actions → Archived Users:

Here you can also unarchive a user and export any necessary information. Please note that when you message users, archived members are not included. However, you can separately message archived users since they still have profiles. Additionally, archived users are also removed from seglists and are unable to be re-added.
Lastly, archiving rolls down, not up so for example, if you are archived from a main(top) group, you are also archived from subgroups. Alternatively, if you are archived from subgroup, you are NOT archived from main group. Also, please note that once a user is archived from your group, they will still have the ability to view your group, add impacts, etc. If you notice they have added new impacts or registrations, we would recommend unarchiving them.
To unarchive members:
If you need to unarchive a member, you can do this by going to manage users > blue action button > selecting Archived Users. On this page, you'll see a list of all the users you have archived in your group. You can unarchive your members by going to the actions column and selecting "unarchive":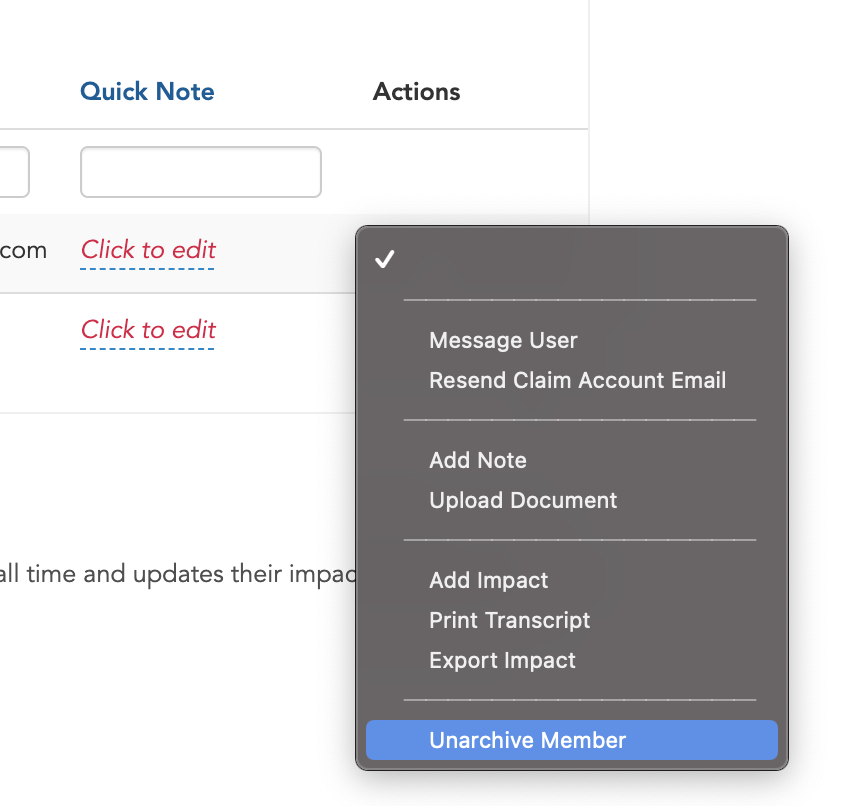 In the case you want to delete, deactivate or archive an account from your group, it's important to note that all user activity is stored in the database for you to report on. In the instance you want to purge all traces of a user, please do contact our support@givepulse.com
Common instances in which user accounts have "traces" of data, e.g., the status or role "Registered" to an event or "Bought" a ticket. You'll notice when reviewing the User Memberships Manage page, there is a role called "Registrant" or "Ticket Buyer". Instances like this where the user has done any of the above will provide "remnant" data on how they interacted with your group. This will be helpful for you to oversee and determine the long-tail interaction of your users and advocates.
There are instances where you have users who move away, graduated, leave the organization, or are no longer affiliated but you still as an administrator want to retain their information, you can do so by "archiving".
Note: Archived users will no longer be members, receive general emails, or appear on the management end, unless you specifically search for them in the archived section to contact or unarchive them.