There are instances where existing users and members of your network or group are no longer active or you choose to temporarily inactivate them. GivePulse enables you the administrator to "archive" an existing user so that the data is still saved for your data collection purposes and it removes access for this individual.
To archive user(s):
Go to your group's dashboard → Users → Manage Users → Actions → Archive member: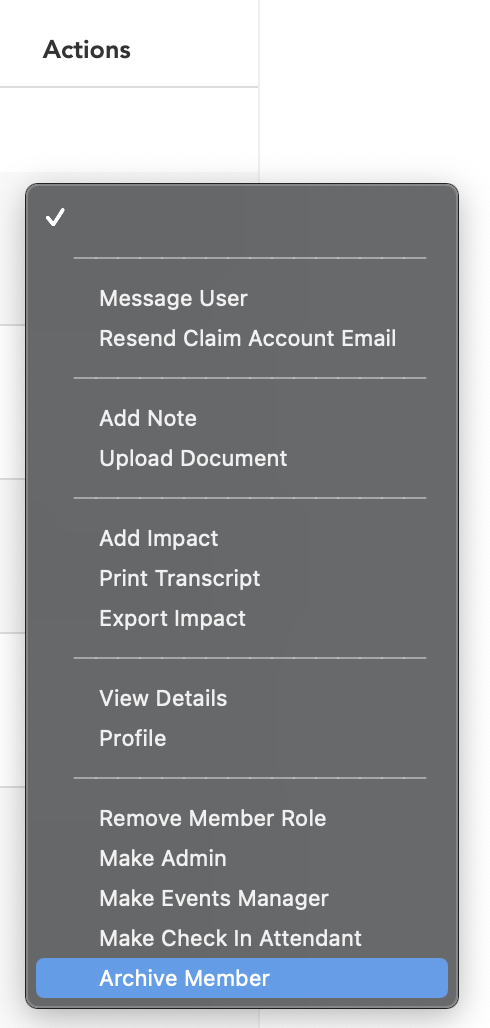 An archived user:
Is no longer a member of the group, which will remove them from group message lists and also makes it so they can't see private groups and can not view private events

They will not be listed on the public people page

Note that an archived user can always request to become a member again

This action removes member from Manage Users but they remain in Manage Memberships as archived

Archive action removes the roles:

Member

Manager

Check-in attendant

Admin

And sets the role Archived
To view archived users go to Users → Manage Users → Actions → Archived Users:

Here you can also unarchive a user and export any necessary information. Please note that when you message users, archived members are not included. However, you can separately message archived users since they still have profiles. Additionally, archived users are also removed from seglists and are unable to be re-added.
Lastly, archiving rolls down, not up so for example, if you are archived from a main(top) group, you are also archived from subgroups. Alternatively, if you are archived from subgroup, you are NOT archived from main group