Auto Clock-Out setting - Within an event's Mobile Impact Settings, there are up to three automatic Clock-out options for any event. This setting kicks in if a user is manually clocked into an event but never clocks out manually.
Opportunities with registration end times will default to automatically clock out at the end of the event/shift time. Opportunities with no registration end times such as an open opportunity volunteering event with no timeslots will default to Clock out using the Group's Automatic Clock out Setting.
To learn more, read our Automatic Clock Out Setting article here.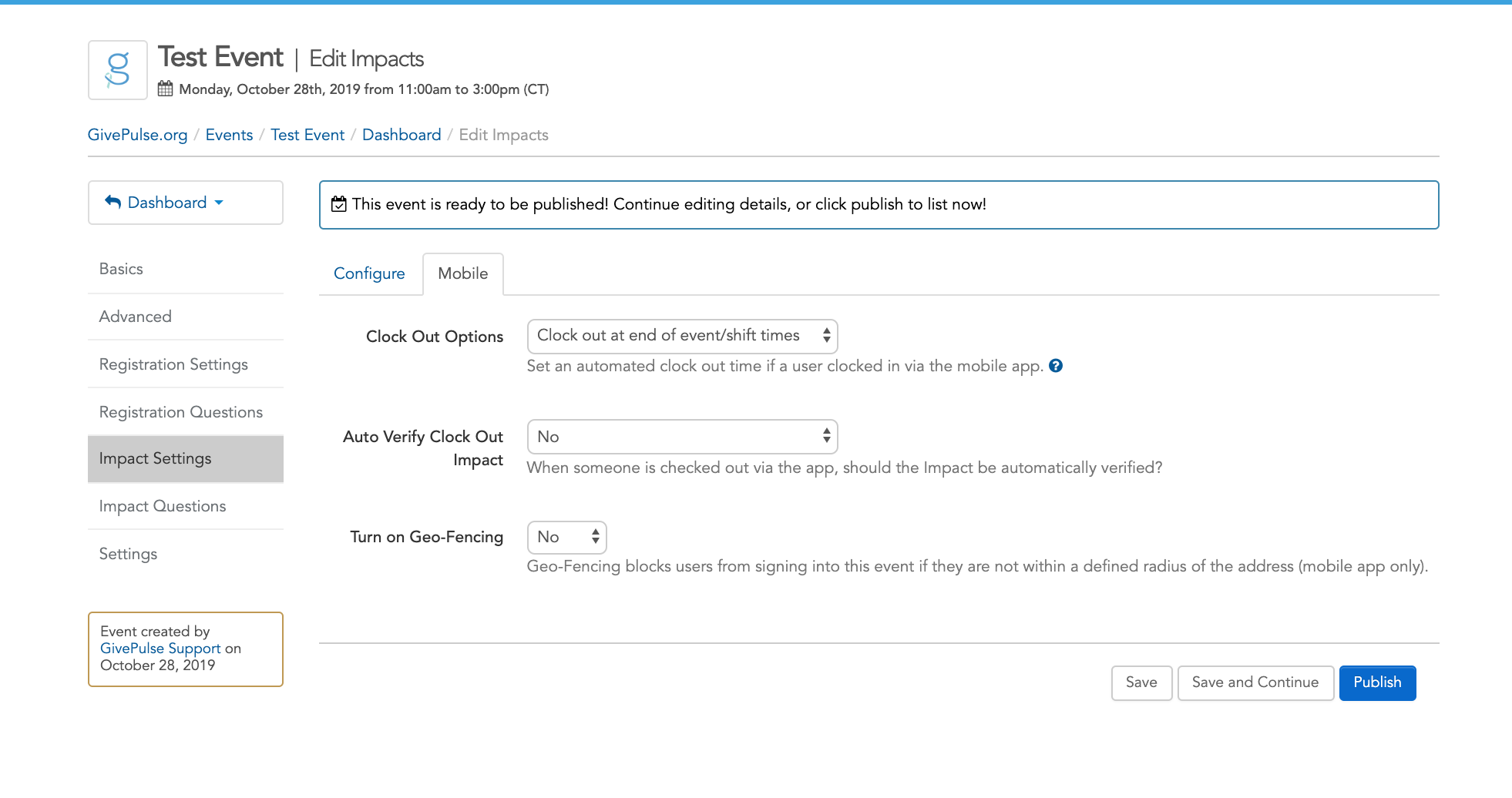 Auto Verify Clock-Out from Mobile - You can set whether or not the mobile clock out of impacts will be automatically verified. There are two places to do so:
1. Within the Group's admin panel, navigate to Customize > Impacts > Group Impact Settings and scroll to the bottom to see the "Auto Verify Clock-Out" setting. This group setting applies to impacts clocked out to the group and it also sets the default setting for all events created prospectively. If set to yes, the impacts that are clocked out via the mobile app will be automatically verified.
2. Within each event setting, on Impact Setting > Mobile you will see the "Auto Verify Clock Out Impact" setting which will let you toggle this setting event by event. By default, it will load the option that is set in the group's setting in 1. above.
Administrative pages are wider - We are now exposing more surface area for you to manage your data. The grid adjusts according to your zoom, so if you would like to see even more content at once, you can zoom out a little bit.
Clear filter and sticky filter on manage grids - On our manage grids, if you have applied a filter that pulls up no results, you will now see a new message display at the bottom. You can click on the "Clear filters here" to clear all filters. Further, if you filter for any columns, that filter will remain filtered so you don't have to refilter for columns again and again upon reloading of the page.
Search view on internships - Similar to our search view on events, you can now search by filters and keywords for internship opportunities as well as view the listings in a map view.
Custom field ID to custom field layout - You can now manage your custom fields more easily through the Field ID column. Navigate to all of your custom fields from Resources > Custom Fields
SSO Hint Label and SSO Search Label setting - Under Customize > Whitelabel > Look & Feel. If you are an organization that uses our Single Sign-On feature (SSO), you can customize the SSO hint label display and the SSO search label.