Timesheets - Timesheets allow users to populate hours and description of activities in one single form. Perhaps you are a long-term volunteer who logs hours once a week, a student doing a community-based work-study placement with an agency, or a professional tracking your pro-nono hours. To learn more about timesheets click here.
Bulk Make a Member - We have introduced an additional bulk action for admins to quickly make users members of your group. Navigate to Manage users, select multiple records, and from the "Bulk Actions" button, select "Make Member." Members can have access to private events! To find out more about private events click here.
Pledge - Pledge events offer admins the chance to ask group members and participants to commit to take action on a one-time or recurring basis. Pledge events encourage commitments to:
Register to vote
Vote
Follow important health guidance
Random acts of kindness
Practice or learn a skill outside of usual school/work hours
To create a Pledge event, follow the usual event creation workflow or go to https://www.givepulse.com/list. Select "Pledge" as the event type. For more information on Pledge events click here.
Relationships for connected accounts- For parents whose children do not have access to an email or a GivePulse account, you can add your child to your Relationships to manage and oversee your child's GivePulse activity.
To add a relationship, click on Account from the dropdown beneath the "Hi [Name]" button on the top right section of the top navigation bar.
Select "Relationships" from the left-hand menu and click the blue "Add Relationship" button.

Add the name and email of the individual you want to add a relationship with and specify their relationship to you. This will lead to a verification email being sent to the account you are creating a relationship with. If your child does not have an email, we automatically generate a fake email, and we will also automatically approve the relationship when the Email field is not updated.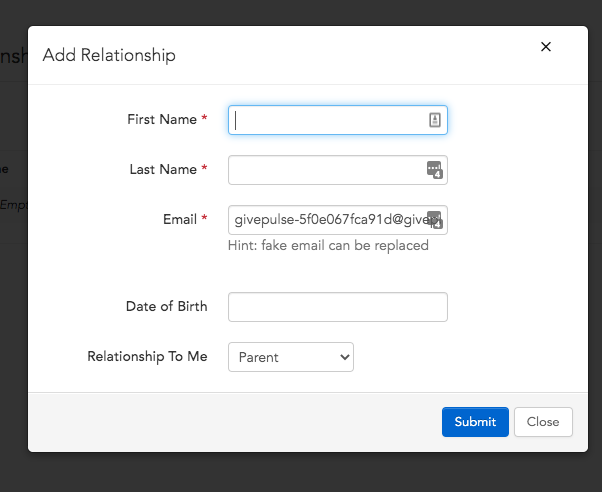 After a Relationship record is established, the Parent who created the Relationship will have the ability to switch their view to the child's' account using the Switch to User button.
From here, you can navigate to the relevant opportunities and register to opportunities as your child.
Coming soon - Integration with Apple Pay on Mobile App for donations