Events with shifts are a handy event type that allows an admin to add different time frames within the event for their users to select from. After creating your shifts, you can edit them individually by clicking on the pencil icon:

If you need to update multiple shifts at once, there is a "bulk actions" button that will allow you to delete shifts or update the shift name and number of participants needed: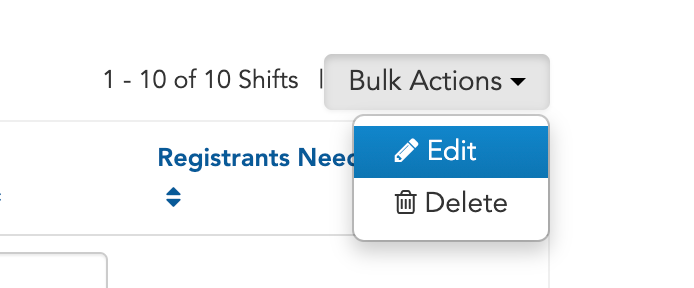 Furthermore, multiple shifts can be updated at once by using the blue "Actions" button > Inline edit. This action allows you to click on the details for the shifts one-by-one and update your information all on the same page:

Once you have edited your shifts to your liking, the event settings tab allows you to decide how your shift event will look. If you have many shifts you would not like to display all at once, you can hide them by toggling the "Display Shift on Event Page" setting to "No":

Please note that once the event's shifts are hidden, a user will only be able to see the shift dates once they have clicked the green "register" button.