As an administrator of a group, GivePulse provides a CRM for you to manage user records and their roles in your organization.
Your group may consist of various people in which you want to organize their first name, emergency contact info and email. Instead of storing it in a document, you have a one stop shop to manage, search and report contact info, interactions, and engagement of your user records.
To navigate to the "Manage Users" page, you can start on your group home page and click the left blue "Manage" box, then click "Manage Users" (you can also choose Users > Manage Users from within the group management dashboard).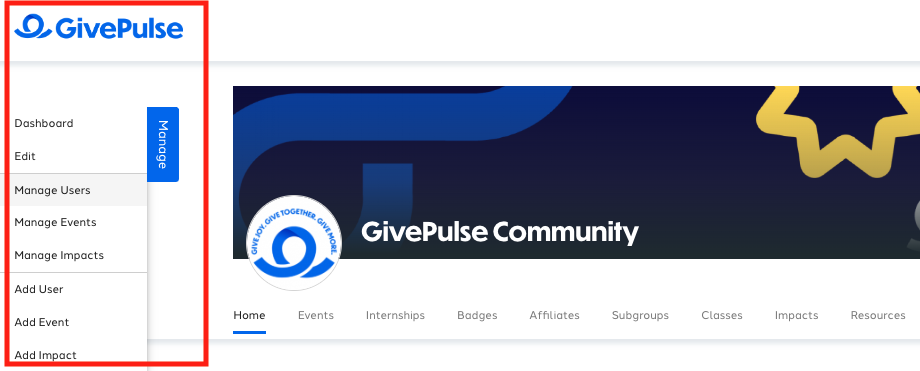 On the "Manage Users" page, you will notice columns of data, each enabling you to either click and sort, dropdown select and filter, or type in search. These abilities will help narrow your reporting and search criteria so you may apply some actions.
Main Actions: This will give you a set of actions to do the following:

Add Users
Export the data
Add user
View Archived Users
View Banned Users
Send Message to Users
Quick Actions: This will give you a set of actions to do the following for a specific user:

Message User

Resend Claim Account Email

Add Note

Add Document

Add Impact

Print Transcript

Export Impact

View Details

Profile

Change Member Role

Archive Member
Configure Layout: In the case that the default columns shown do not display want you are interested in, you may configure the layout. Select the "configure layout" link so you may choose additional variables to display or change the ordering of how they are displayed. When you select or deselect the new fields, you may also drag and drop the fields to reorder them how you may link. Press Apply and you are well on your way to change the layout of the table.
By clicking on an individual user's name, you are brought to a file of user details. This can help you to quickly access important information about an individual user.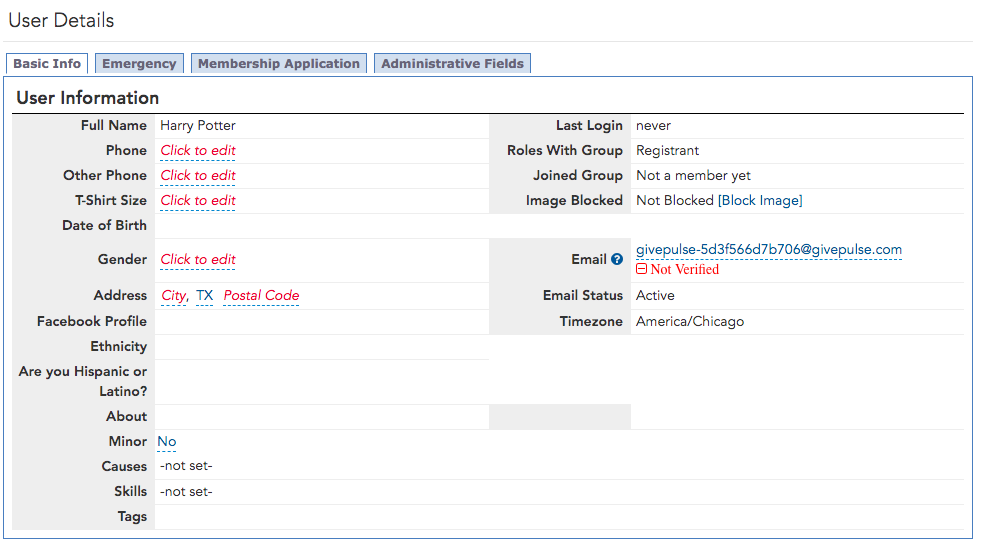 For more information about managing users, see this video: