Using event templates is a great way to keep things organized when managing registrations and data for various groups, classes, or programs. This approach can be applied across multiple groups, classes, and programs, streamlining the data consolidation process.
Please note that all templates and their clones will be set as private events.
How to Manage Event Templates
If you have more than one template, you can handle them all by going to 'Events' and choosing 'Manage Templates'.

When you're in the 'Manage Templates' section, you can see some key information about each template. This includes how many times each template has been copied (cloned) and the total number of people who have registered for events using that template.
If you want to make changes to a template, like updating its details, making copies, deleting, archiving, or duplicating it, you can easily do so by clicking on the "Actions" drop down menu. This allows you to apply these actions to a specific template quickly.

If you want to copy a specific template to several groups, courses, or programs, here's what you need to know:
When you choose administrators for the new clones, you'll have some default options. These defaults are usually the current administrators of the groups, courses, or affiliates you're copying the template to, or the admin of the original template you're copying from.
However, if you want to set up new administrators for each copy, you can do that after you've created the copies. You'll have the chance to go into each individual copy and update or edit the administrators as needed.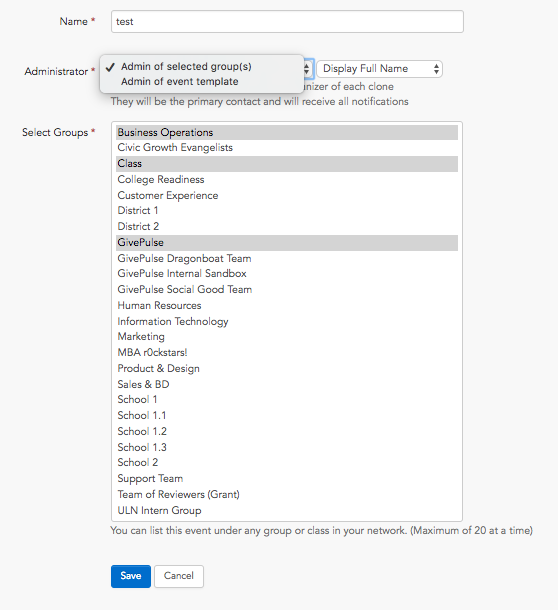 After creating the clones, you will be able to navigate to each one by using the Manage Clones option: 

Within the clones, you will see the registrations, users, documents, etc. that only pertain to that specific clone. 
Shared Registrations
As an admin, you can view Event > Event Templates, select the specific template, and Manage Registrations will show all the cloned events including the number of registrations across the clones. 
Here is an example: