Your group's settings are set when you create groups and can be edited at any time.

To edit group settings after creating your group, go to your group's page and click on the blue Manage button. When the drop-down menu appears, click "Edit".
New View: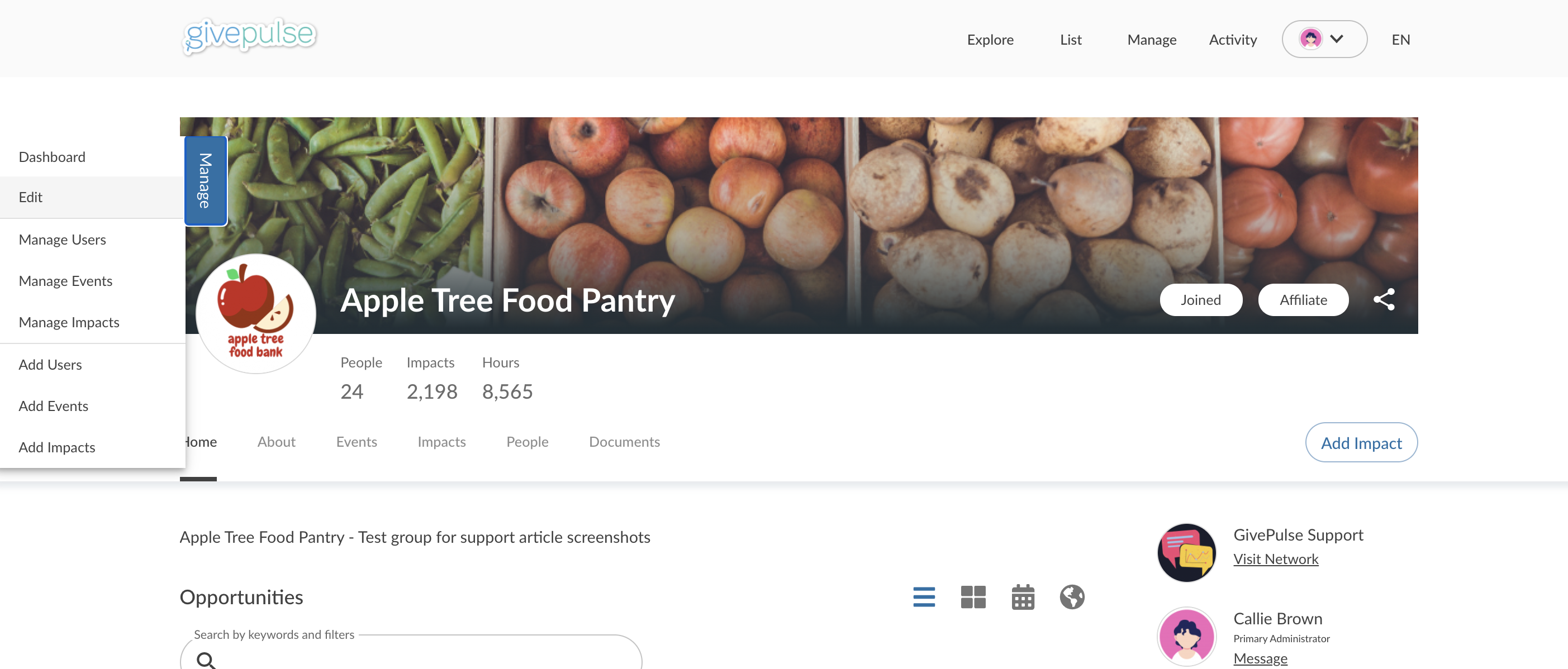 Classic View:



Basic Info: You should input the name, tagline, description, and address of your group here. The more succinct and attractive your text is, the more appealing your group will be for people to join and help your cause or group. Select your group type for our system to categorize your group correctly and also to let others know what kind of group you are in. Select a main administrator for your group (they must be in the group first). This person will be the "face" of the group, meaning that their photo will be featured on the group's front page, and their contact info will be provided to those who request it. Depending on your tier, you can add multiple admins. To do so, you need to go to the "Manage Users" page. More details on how to make group members into group admins can be found here: Memberships. You can implement search keywords so users can find your group quickly. Make sure to input unique keywords that will help people find and identify your group and cause.
Privacy: A primary group may not be set as private, but subgroups of a primary group may be set in private mode. If you need to set a primary group as private, please reach out to support@givepulse.com

Logos: Upload your group's logo (dimensions a minimum of 330px by 330px) to help make your group listing more unique and easier for users to find. Upload your group's cover photo for a unique look and feel. For best quality, your cover image should be 1170px by 200px. Note that we display white text over the image so that the best result will be a darker image with no text.

Causes: Select causes that are aligned with your cause, group, or team. When users search for groups, they can filter by cause. To improve searchability, select relatable causes for your group.
SDGs: Also known as Sustainable Development Goals. On September 25th, 2015, countries adopted a set of goals to end poverty, protect the planet, and ensure prosperity for all as part of a new sustainable development agenda. Each goal has specific targets to be achieved over the next 15 years. Let people know if your organization is working towards any of these goals. You'll be able to learn more here.
Social: Fill this information out to enable people to connect with you in different social mediums. Connect users to your Facebook, Twitter, and other social networking accounts.
Additional Contacts: With silver or higher subscriptions, your group can have more than one admin. The additional contacts tab is where you can add public-facing admins who will be listed on the group page and easily able to be contacted by users. You can add their names and roles under this tab.
Non-Profit Verification: If you have set your group type as non-profit and wish to verify this designation to be eligible to activate the Donate button on your page, you will need to fill out the Non-Profit Verification tab. Note: This tab only opens if your group type is non-profit. You will fill out your EIN and other information to confirm that you are a 501(c)(3) organization.