There are instances where you have a group of people where you want to grant them admin access or membership access to a subgroup. 
Note: When you have a complicated hierarchy of groups and subgroups, all roles given to a hierarchy role up so you may filter by the group, by who has admin access or any specific role in the hierarchy.
You may access the Manage Memberships through the Admin Dashboard -> Users -> Manage Memberships.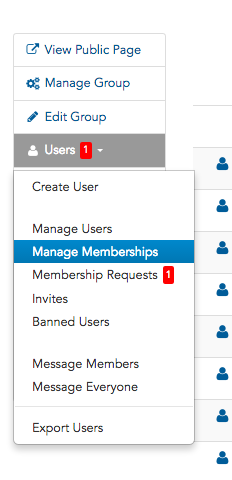 When on the Manage Memberships page, there is a column for member names, group name (subgroup within your hierarchy), user roles, etc.,
The typical filter you may apply is searching for all the roles in a specific subgroup of your hierarchy. Let's say you have a large university network, and you want to see all the members and their roles in the Business Department. You would select the Business Department and the system will auto update and display all the users and their roles in the Business department.