If you are an admin of a parent group in a network containing one or more subgroups, you are able to look at users and their roles across the networks by going to the "Manage Memberships" page.
Note: When you have a complicated hierarchy of groups and subgroups, all roles given to a hierarchy roll up so you may filter by the group by who has admin access or any specific role in the hierarchy.
You may access the Manage Memberships through the Admin Dashboard > Users > Manage Memberships.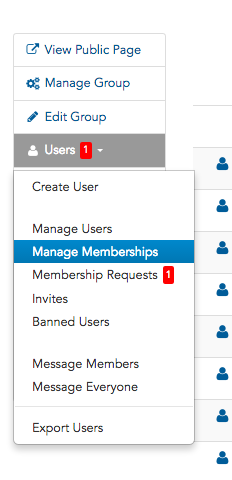 When on the Manage Memberships page, there are columns for member names, group name (subgroup within your hierarchy), user roles, and more.

You can then filter by any of these categories. Some useful ways to filter include checking to see only admins under "User Roles" (to see who is the admin of each group) or sorting by group under "Group." Let's say you have a large university network, and you want to see all the members and their roles in the Business Department. You would select the Business Department and the system will auto update and display all the users and their roles in the Business department.

Check out the video below for more info on this topic!