You have the opportunity to whitelabel the whole GivePulse experience by applying your marketing assets and branding.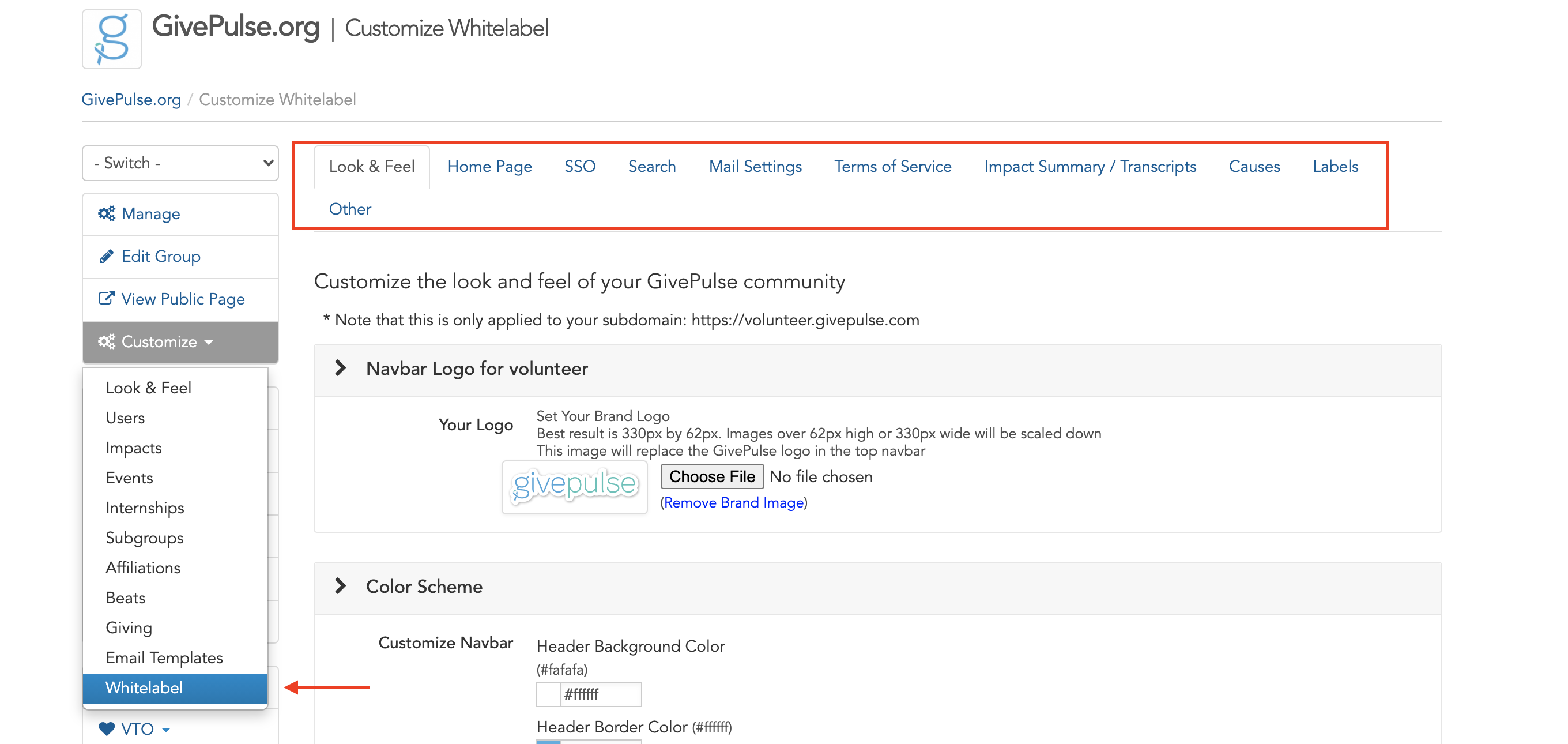 Look and Feel
If you have whitelabeling, you are able to edit the brand and color of the GivePulse platform. To learn more about changing the look and feel of your subdomain, click here.
Home Page
Within whitelabeling, you can change the "default" of your subdomain redirect to the Home Page or your Group's Page. If you chose the Home Page, you can personalize the page by adding your own image (Note: this can be a video too, if so, feel free to send us an mp4 video that is less than 7mb).
SSO
Single Sign-On allows users to use the same credentials for their school or place of employment to log into GivePulse. If this is activated for your group, you can edit your specific SSO labels and login option under the SSO whitelabel settings.
Search
With Whitelabeling enabled, you can control user's search behavior under your subdomain. For instance, you can decide if users can search for events within the entire GivePulse platform or limit the search to only the events that are within your group's network.
Mail Settings
Under your group's subdomain, an admin can change the "reply to" email address user's see when they receive GivePulse Notifications.
When notification emails are sent out and a user replies to that email, by default it is automatically imported into the system. If instead, you want your users to respond directly back to you when they click reply, enter an email address here in the mail settings:

Please note that using setting this means those emails will not be imported back into GivePulse. Additionally, users must send messages under the group's subdomain for these settings to applied to their notifications.
Terms of Service
When users sign in to GivePulse under your group's subdomain, they will be required to accept your Terms of Service if you have one. Additionally, within these settings you can add a Global Registration Indemnification/Release Form that users have to sign when they register to any event under your subdomain. To learn more about Terms of Service settings, click here.
Impact Summary/ Transcripts
When exporting impact summaries/ transcripts, you can change the settings to reflect your brand's look and feel. Additionally, you can adjust the form's layout to your institution's preferences.
Causes
Within this tab, you can create new Cause labels that your group and subgroups can use within your network. In addition to adding new Causes, you can decided which of the Cause tags you want to be displayed for other users within your network.
Labels
You can change the public facing labels for different objects/pages. This change can be reflected at the network level or the group level.

If you have any additional questions about whitelabeling settings you can email us at support@givepulse.com.