As an admin, you are able to create custom fields that you can then add to forms across your group's GivePulse platform (registrations, membership applications, surveys, and more).

There are a variety of circumstances in which you might want to gather data about your volunteers and users. Custom Fields are a way where you can build out forms or questions for your volunteers to complete specific to your group or event.


To access your Custom Fields, navigate to your group dashboard, and click More Tools > Custom Fields.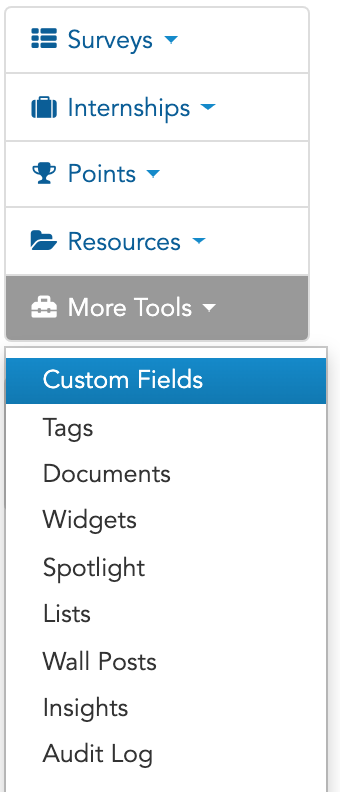 From here, you can click the blue Actions button to create a new custom field.

You can also edit and view details about the custom fields that you have already created. To edit a custom field, click the drop-down menu to the far right of the custom field:

To view details, click on the name of the custom field. This will bring you to a page where you can see where you have already used this custom field, as well as user responses.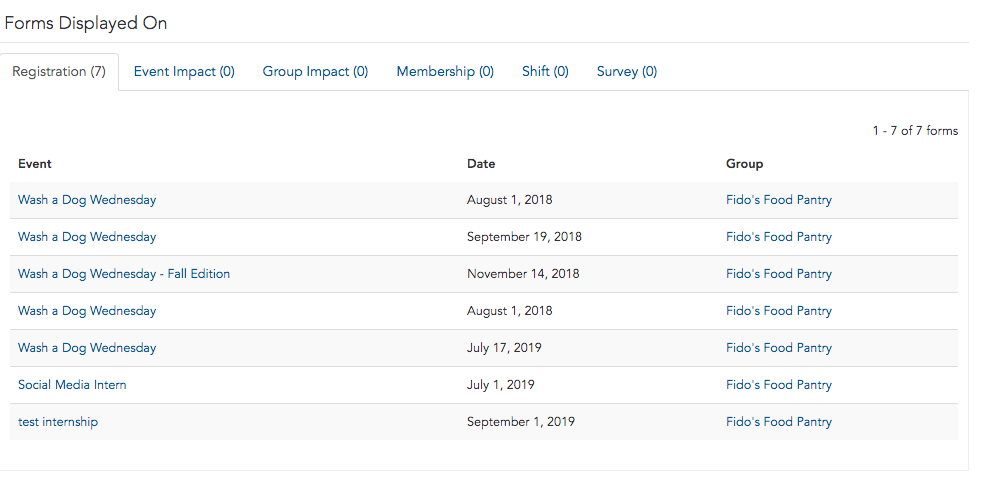 To add custom fields that you have created, click "Add Existing Saved Fields" on the form in question:

This will then provide a list that you can either scroll through or search within to find the custom field you are looking to add:

More specifics about custom fields and how they can be used in a variety of settings can be found in our articles discussing the Community Impact Database.


Note: When dragging and dropping a field into the canvas, a "new custom field" is created. In order to view "saved" or "existing" fields, go to "Add Existing Saved Fields", a library of all custom fields created in the system. In the case you need to delete or update the fields from this library, navigate to your "Resources" -> "Custom Fields" section and determine what fields to archive, update or review.
Check out the video below for more info on Custom Fields!
Below are a few main areas where custom fields can play important roles:
Membership Application: Creating custom fields for membership applications here will allow you to ask questions or request additional information about them upon agreeing to their application.
Pre and Post-Event Assessment: Creating custom fields in Registration Questions and Impact Questions will allow you to ask basic questions to help you gather pre-event information and post-event feedback.
Shifts: When you have an event with many shifts, and there are specific shifts where you would like to collect further information, you can add custom fields for the shifts.
Affiliate Applications: Whether it be a community partner, or an existing department, group, program or club who wants to join your network or portal to establish an "affiliation", you may request specific fields for them to fill out as an application before accepting them.
Surveys: You can stitch together a survey or form with custom fields so that you can have people fill this out for your own data collection.
Impacts: You can request specific fields upon users input when they are informing you of their impact. e.g., instead of just tracking service hours, what quantifiable or qualitative information do you want to collect?
Note: Custom fields can be used to collect quantitative and qualitative data.
*What fields are available by default?
These are default fields and are available for you to use immediately:
| | |
| --- | --- |
| Allergies | textarea |
| Birthdate | date |
| Emergency Contact Info | composite |
| Food Preference | text |
| Gender | dropdown |
| Legal Name | text |
| Medication | textarea |
| Note | textarea |
| Number of minors? | dropdown |
| Parent Guardian | composite |
| Phone Number | text |
| Physician | composite |
| SSN# | text |
| T-Shirt Size | dropdown |
| Veteran | checkbox |