Whether you want to add a check you received in the mail to a crowdfunding campaign or add past donations to a donor's user profile, you can easily add offline gifts as Impacts via your GivePulse group. Read more about how we define Impacts here.
First go to your group dashboard and click on the Impacts module from the side menu.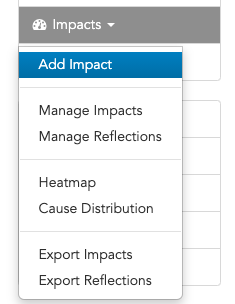 Change the Impact Category to Money.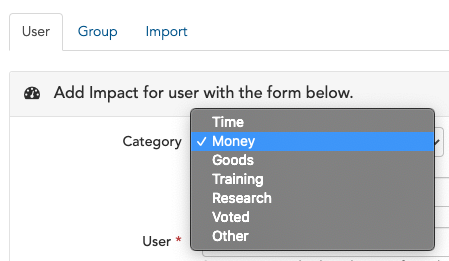 Enter the amount of the donation next to "Donated." Please note you can also enter an amount that a user has raised.

Choose the donor by selecting a user from your group, or click "add a new user," which will prompt you to enter donor information.

Select the date you'd like the donation to be recorded as by changing the Event field. Note that there are 2 different date fields attached to impact - "Date Added" and "Donation Date." "Date Added" is the date the offline impact was added and cannot be changed. "Donation Date" or "Date" will be the date you specify in this field.
Select a fundraising campaign to connect this donation to under "Event." If the donation is not connected to a specific campaign, leave this field blank. Once you select a campaign under Event, the P2P Campaigns area and Anonymous and Honor Memorial Gift options will appear.

If you want the gift connected to a specific peer to peer campaign fundraiser, select it from P2P Campaigns. You'll also have the opportunity to mark the gift as "Anonymous," which will hide the donor's name from the campaign wall, and "Honor Memorial Gift."

Add notes or reflections to the donation. Note that the "Review, Reflection and Feedback" will appear publicly on the user's profile, while Personal Notes will be visible to the GivePulse user and can be used to record gift information.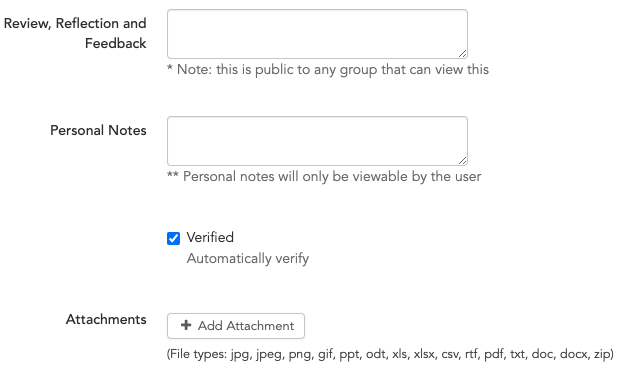 Review the information you've added and click "Add Impact."

Note that adding a gift for an existing GivePulse user will notify them of the new Impact. Adding a gift for a constituent who doesn't have a GivePulse profile will record the gift but won't create a new user profile.
For questions and assistance, contact fundraising@givepulse.com.