This guide is for individuals and groups participating as peer-to-peer fundraisers. Looking for information on how admins can set up and manage this feature? Click here
As a peer-to-peer (p2p) fundraiser, you will be collecting donations from your personal network that contribute to the fundraising campaign of a cause you care about. Creating a p2p campaign allows you to customize your own fundraising page, track your progress and contribute to reaching the fundraising goal of the group you support. You can do this as your own personal effort or on behalf of a group.
Step 1: Create a campaign
Go to the fundraising page of the group you support and click "Help Fundraise"

Step 2: Fill out info for your peer-to-peer campaign
You can choose to fundraise in the following ways:
Create a campaign for yourself: This option allows any individual to start fundraising and track their progress for the cause they care about.

Create a campaign for a group: Creating a campaign for a group allows you to have a peer-to-peer fundraiser that represents the total progress of group members fundraising for the cause you care about. An example of this would be a club fundraising for a local charity.

If you're fundraising for a group that doesn't already exist in GivePulse, click "create a new group" to create a new group directly from the Create Campaign page. Please note this will create a group that exists within GivePulse, not just within this fundraising campaign.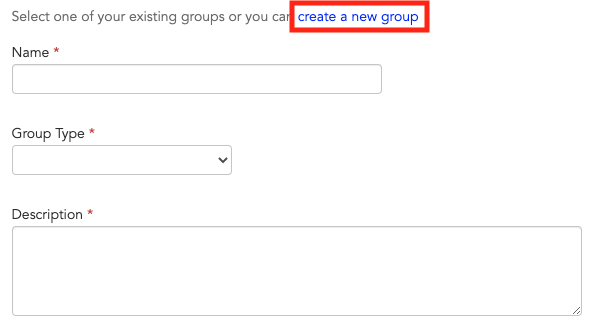 Create a campaign for yourself on behalf of a group: Individuals may also create campaigns for themselves that are included in the total amount fundraised for a group running a peer-to-peer campaign. An example of this would be a student who is part of a campus organization fundraising for a community charity but wants their donations to be counted toward the campus organization's total fundraising progress. If the group you're part of doesn't appear in the dropdown, contact that group to see if they're participating.

Tips for your campaign page:
Start early
You can create a p2p campaign at any point while the fundraiser you're supporting is live, but the earlier you can start the better. Having more time will allow you to raise more money and build momentum.
Don't set a goal that's too low….or too high
Don't underestimate how much you can raise, but don't set a goal that is too unrealistic. The perfect goal amount counts all the donations you think you are likely to receive plus some room for unexpected donations.
Show your connection to the cause
Making your campaign page as personal as possible will help your donors understand your connection to the fundraiser. Include information about how you got connected to this organization, past experiences you've had, why you're passionate about supporting it, a photo of you that's related to this cause, or take a short video of yourself talking about why you support it. The more you can show your connection to this cause, the better!
Step 3: Manage your campaign & get the word out
Once you've created your p2p fundraising page, it's up to you to manage and promote it. When you're logged into your GivePulse account, you'll see an admin panel on your p2p fundraiser page. From your admin panel, you can edit your campaign and view or export your donors. Please note you'll have limited access to donor information as a p2p fundraiser.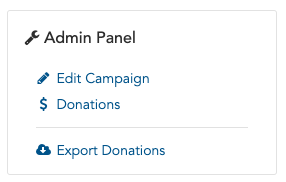 If you're running a group campaign, your panel will include the "Individual Campaigns" button that allows you to see all individuals fundraising on behalf of your group and their progress.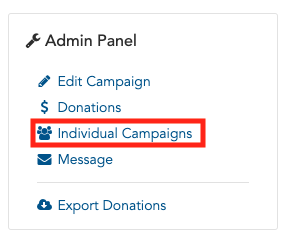 Outreach tips for your campaign:
Use multiple platforms and communication methods

You interact with your network in different spaces, so make sure to canvas the different places you talk to your friends, family and professional connections and adjust your language for each audience. For example, you might send a close family member a text message while you might post general asks on social media and send DMs to friends.
For easy sharing, use the social media, email and direct link share buttons on your fundraiser page.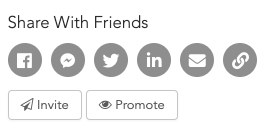 Send as many direct messages as possible
Most gifts you receive will come in through personal appeals via email, text message and direct message. While posting to social media sites is important for telling your story and getting the word out, the act of sending someone a personal message requires an action, whether that's to donate or say no. For best results, include a question at the end of your message like "Will you help me reach my goal?" or "Can I count you in for a donation?"
Ask...and ask again
Most people don't respond to messages or donate because they are too busy, not because they don't want to donate. Make sure you follow up with each person you message at least once or twice unless they explicitly say they're not interested. Most of the time you'll be doing them a favor by sending a reminder!
Want more information? Email fundraising@givepulse.com for questions about your campaign.