When you make an impact, it needs to be verified by the organization with which you engaged. This is in order to ensure that your impact summary maintains an accurate and up-to-date record of your impact. 
To see whether your impacts are verified, you can click on "My Activity" on the top of your screen and then select "Impacts."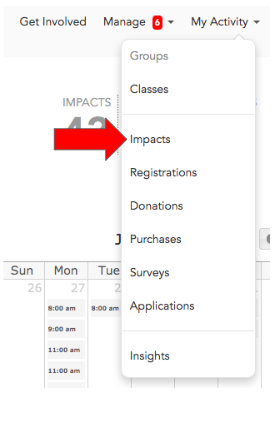 On the page you are redirected to, you will see a list of your impacts with the word "Verified" next to them if they have been verified and the word "Pending" next to them if they are still waiting on verification. You can click on the drop-down menu to update your impact or to check on verification requests. 

If you click on "Verification Requests," you can see a record of the verification request emails sent to the organizer and can also click "Resend Verification Request" to send another email to the verifier. 

Only verified impacts show up on your impact summary. If you update your impact once it has already been verified, its status will return to "Pending" and the administrator will be prompted to verify it again. 
In the case that your impact is disputed, you will receive an email informing you and providing the information of who to contact. You are also able to go back in and update your impact to resolve the dispute through the same "My Activities" > "Impact" workflow.