If you are creating an event but have not yet created your group, click

here

.  For those who have an existing group, log in and navigate to
your group dashboard
. 
On the group dashboard, click on "Events" on the left-hand menu and then select "Add Event" Selecting this will guide you through a process to fill out the required fields.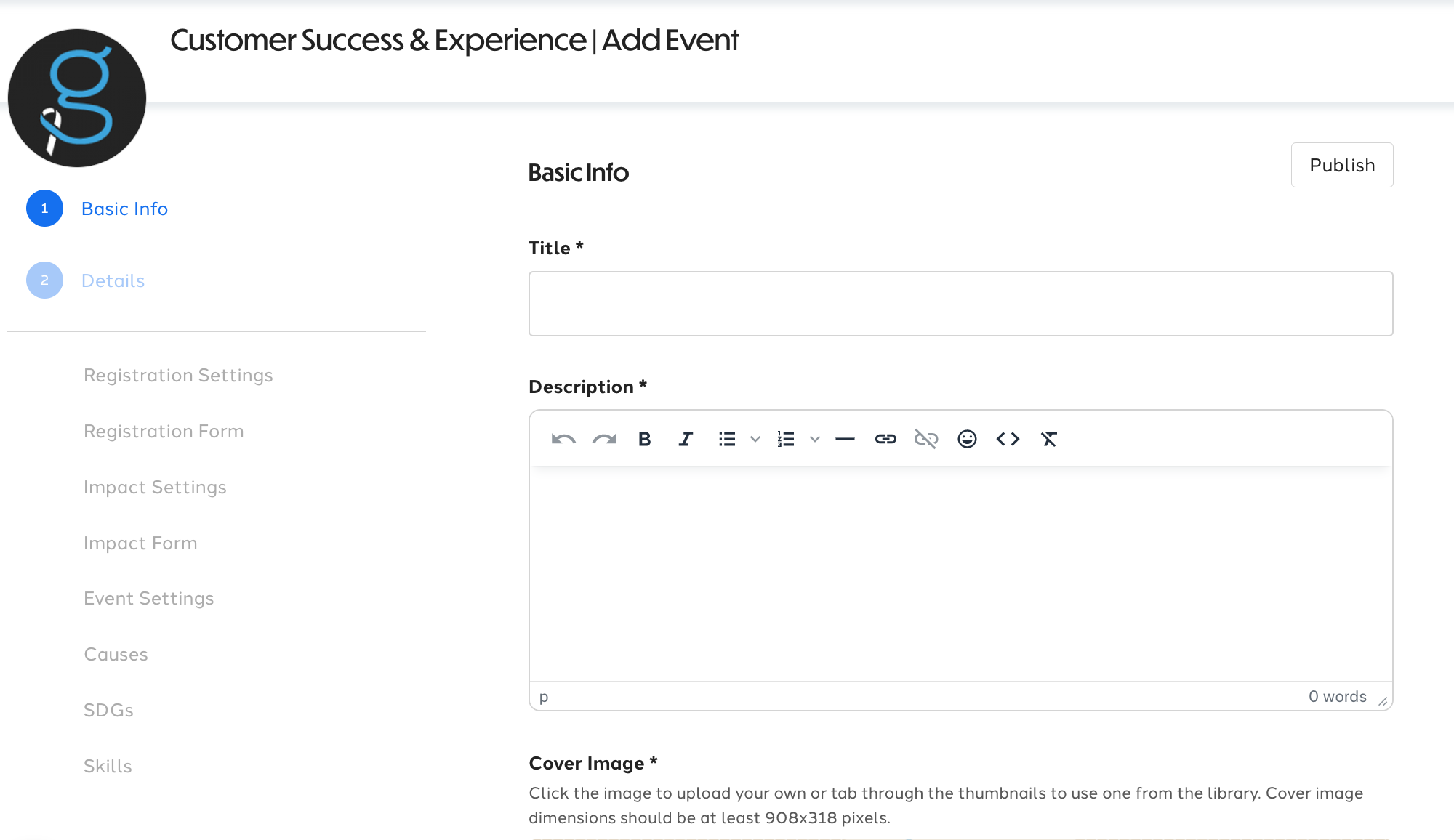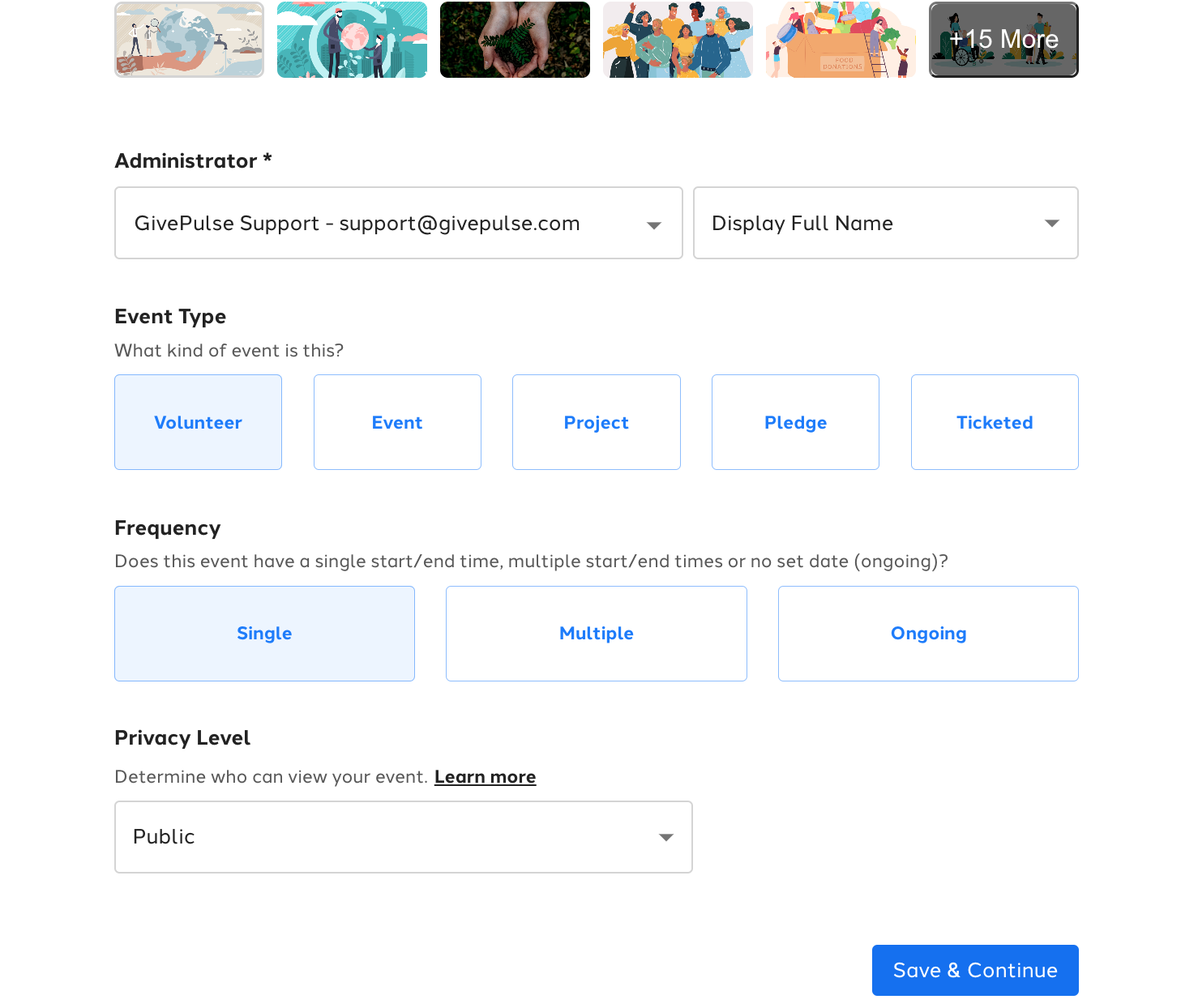 Basic required information for your event:
Name: A short, clear, and identifiable name for the event
Description: don't copy and paste from something else. If you have the opportunity to modify the content and make it short, concise, and enticing, this will drive more interest.
Admin: the choices available include members and existing admins in your group.
Type:

Define your event type.  


Volunteer - an event type where volunteers, someone contributes their time, skills and experience to an organization. 
Event - an event type where volunteers can contribute money, goods, training, research, voting, or anything other than time(hours). 
Project - an event type that involves completing milestones. 
Pledge - an event type where a user pledges to complete (running a marathon/miles)
Ticket - an event type where an admin can set tickets to be purchased.

Frequency: Define your event frequency (how often?)

Single - one-day event with a start and end time in one day.
Multiple - for specific dates, you can create shifts, specific dates and/or time frames/slots/shifts
Ongoing - if there are no defined times, this is for general events (think monthly or annually)

Privacy Settings: If you have a free basic-level subscription, your event will automatically default to Public. Note: there are various different levels of event privacy that are offered to our Give Joy, Give Together and Give More linked here: subscription levels.
Participants Needed: the number of people you believe will be needed. If you have an unlimited number, set it as "-1."
Cover Image: Additional features include selecting from our image library or uploading your own. If you choose to upload your own c

over image, the minimum image dimensions are at least

908x318 pixels. 
After completing page 1: Basic Info, you will save and continue to move forward to page 2: Details. 
Multiple Event Type: Details and Adding Shifts: You can add shifts for a multiple event-type by clicking the Blue Add Shift(s) button in the top right and you can import or export shifts by clicking the 'Actions' drop menu. 

When adding a shift you can add shift title or name, shift description, participants needed, date & time, if the shift repeats (on a certain day for a certain time, weekly, monthly, or other), address start and end, and other settings for the shift specifically.



Registration Settings: Through the registration settings tab, you are able to change and set the time period users can register, set a registration open and/or close date, how close to the event users can cancel their registration, and more.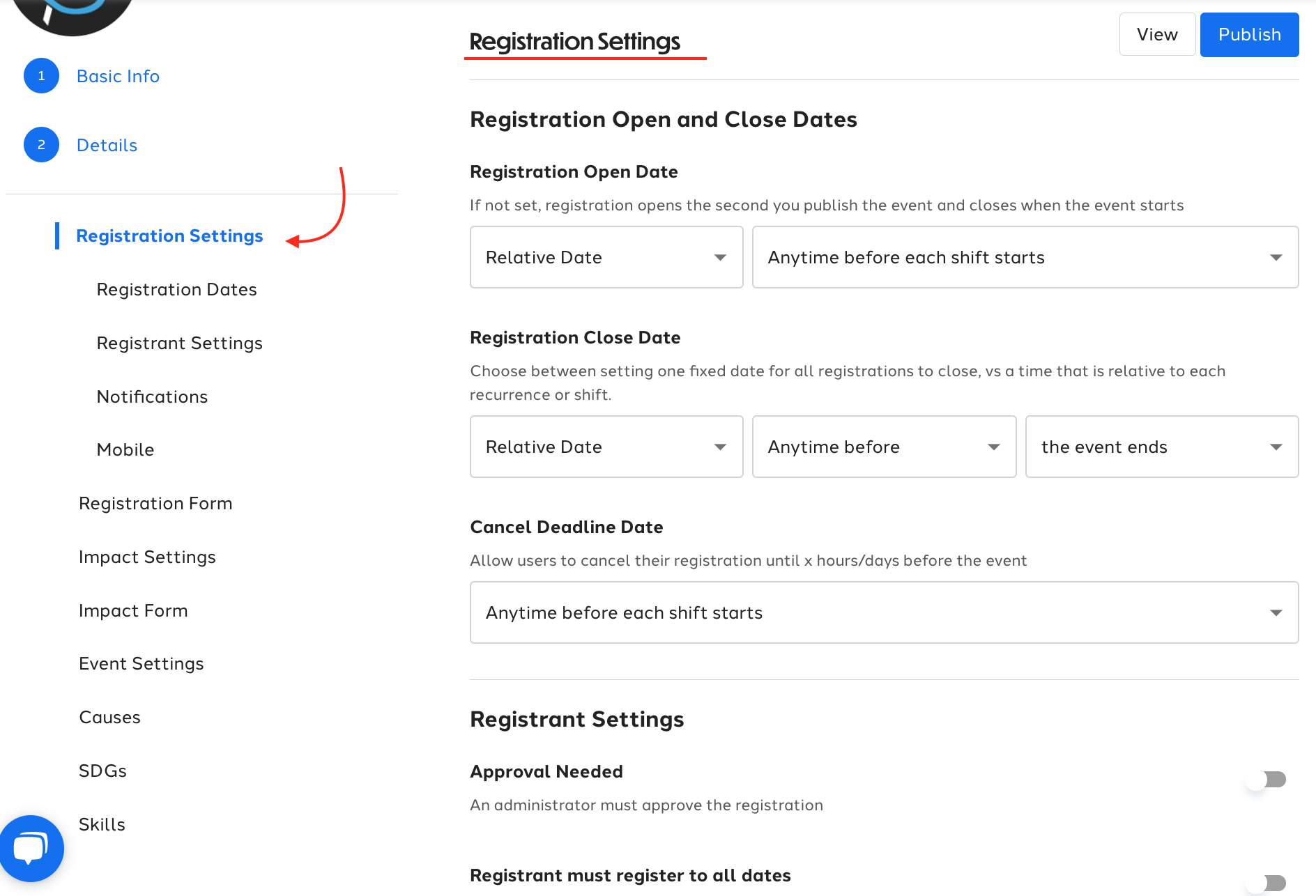 Registration Questions: You are able to set custom questions that users have to answer in order to register for each event. Here, we recommend using 'Add Existing Saved Fields', you can learn more about custom fields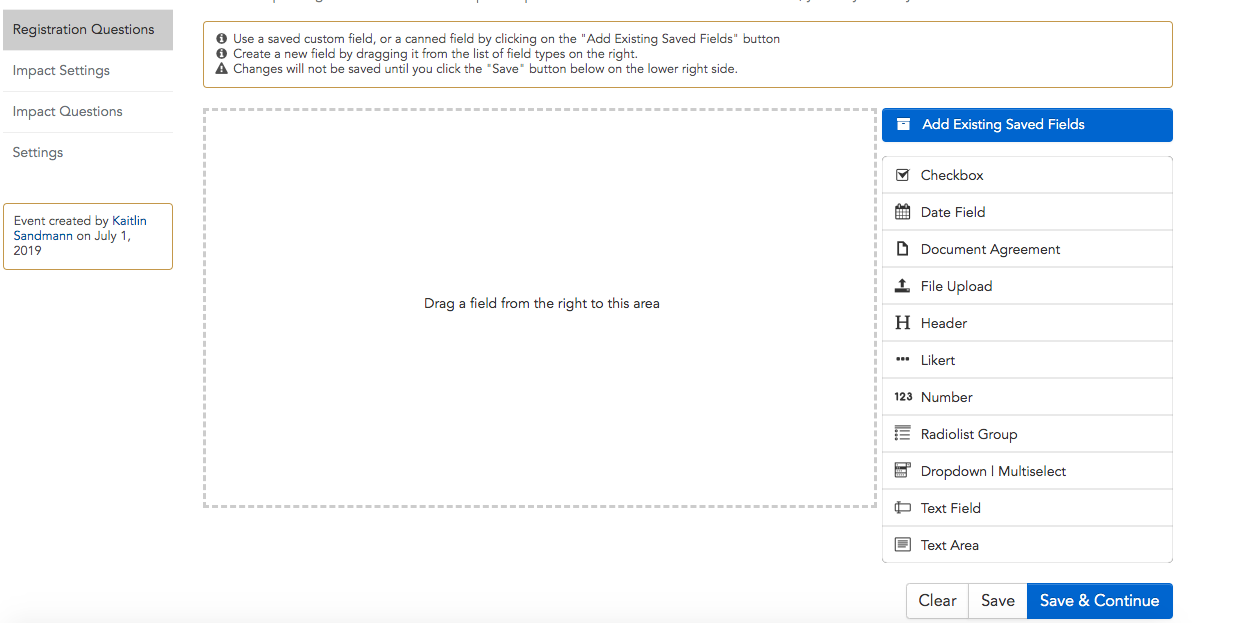 Impact Settings: Through this tab, you can adjust general impact settings: when to allow impacts, who can create impacts, when reminder notifications to create an impact are sent, impact types, mobile settings (including clock in/clock out), and more.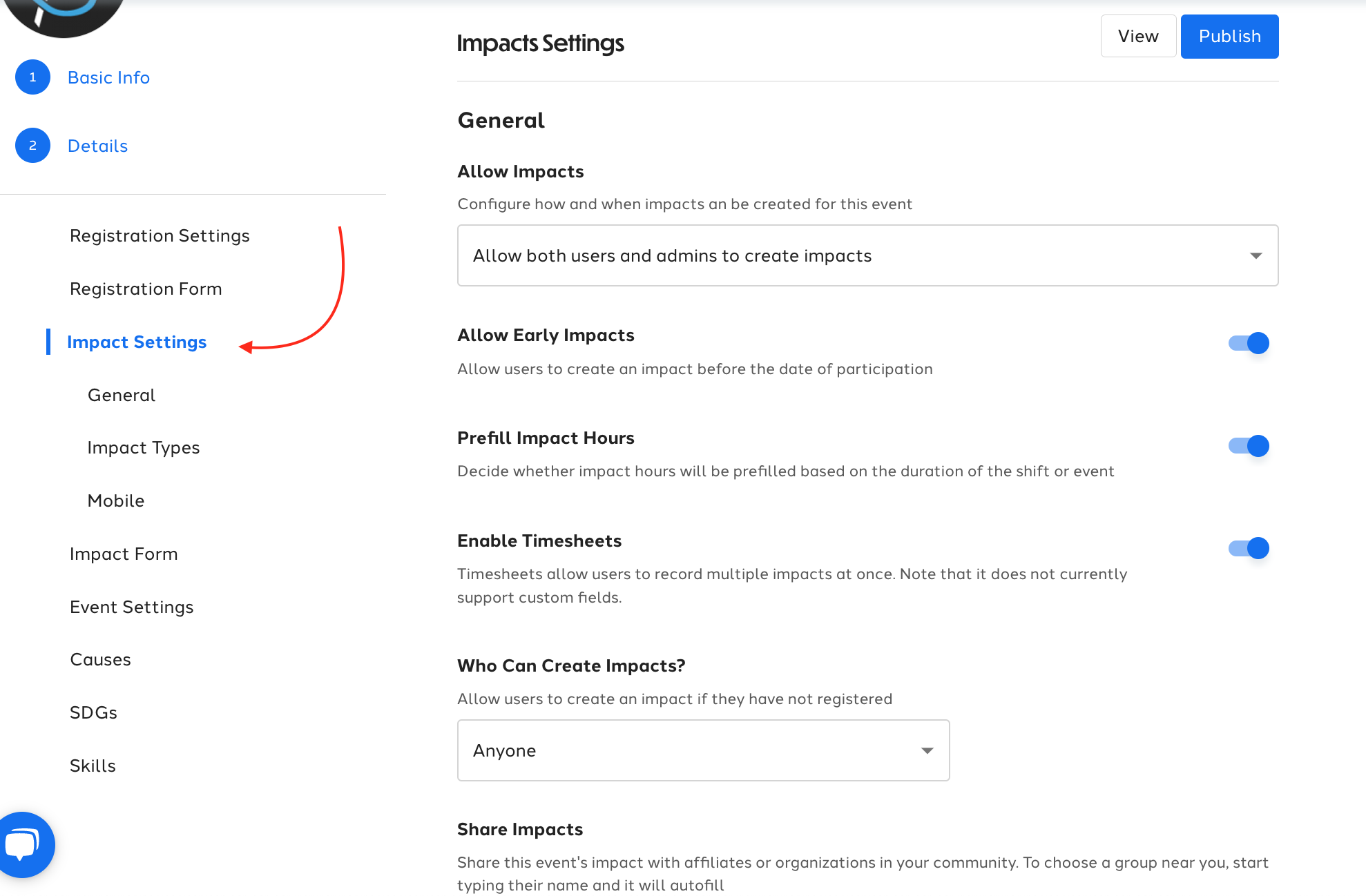 Impact Form and Questions: You can create custom impact questions to request information from your volunteers or users who attended or participated in the event. Here, we recommend using 'Add Existing Saved Fields', you can learn more about custom fields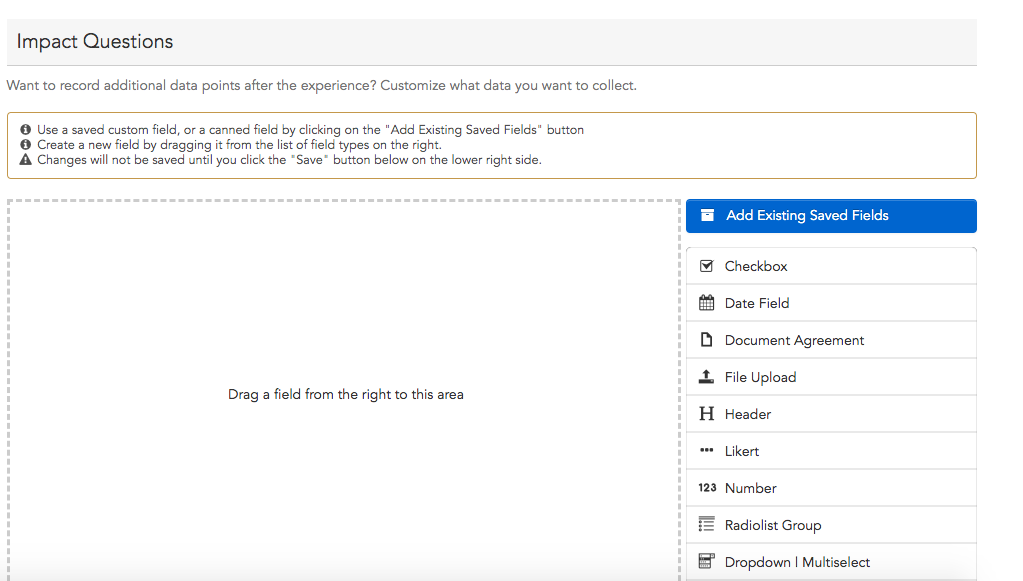 Event Settings: Through the event settings tab, you can change additional facets of the event: select age limit, requirements (background check, training, or other), parking details, event public appearance; such as people can comment on the wall, display a map of the event's location, and more.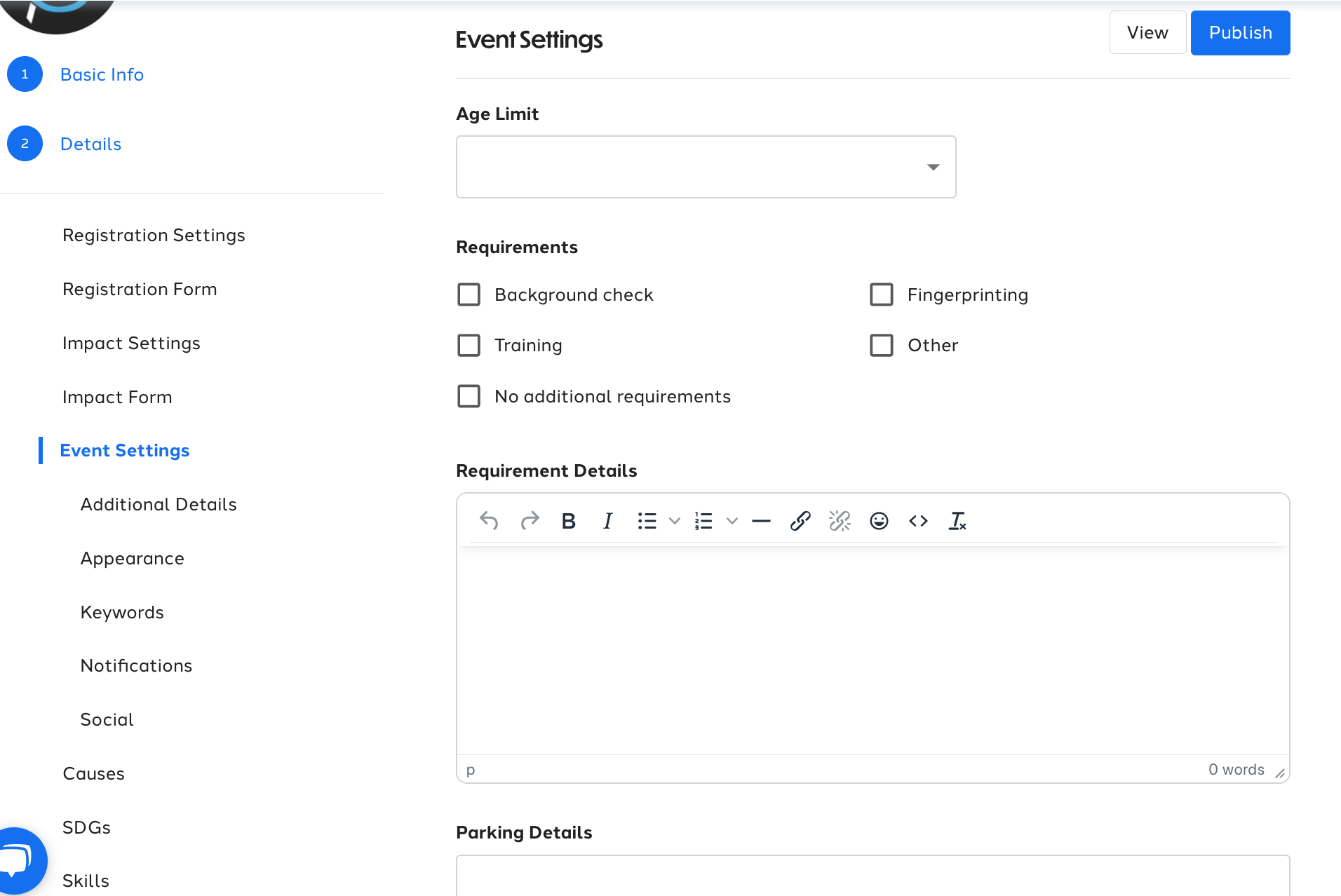 Note: If your event includes "Shifts or Timeslots", there will be additional optional settings fields for you to complete.

At any time during the Event creation workflow, you can select the top button 'View' and preview the event, this is how your event will look as a volunteer, visitor, or non-admin user.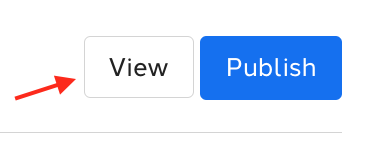 When you are finished and happy with your event, you can either click "Save," which will place the event in draft mode until you are ready to publish, or "Publish" if the event is ready to have people register. 

Additional settings to consider: 
Causes, SDGS, and Skills
What causes does this event support?

Sustainable Development Goals

If certain skills are required or desired, let people know by selecting them here. This helps users find your opportunity when searching for ways to help.
Virtual/ Remote Opportunity: If your event is being hosted virtually, make sure to select yes via the drop-down menu. Additionally, if you are utilizing Zoom, you can enable the web conferencing integration for your event as well. You can learn more about GivePulse's web conferencing integration with Zoom here. 
Registration Settings - Group Registration: This feature will not be available in New View. Here you can learn more about Wait List, Minors Signups, Group and Guest Registration Settings
Registration Questions - Collecting Data: If you wanted to collect specific data about your registrants before they attend the event, you can select the default fields provided or create your own custom fields. Default fields are listed at the bottom of this article linked here: about custom fields.  Some examples for additional information you may want to request are: "How did you find out about this event?", "What do you know about at-risk children?" etc.,
Registration Settings - Registration Approval: If you want to approve each individual when they register, this will allow you to control who is able to register. 
Check out the video below for more info on this topic! 
New View
Classic View
If you have any questions, please reach out to support@givepulse.com, or join our GivePulse Community Group

'Advanced' in Classic View with Event Logo
NOTE: Advanced is only available in Classic View: Event Logo and Cover Image in this format are only offered in Classic View but will not be available in New View.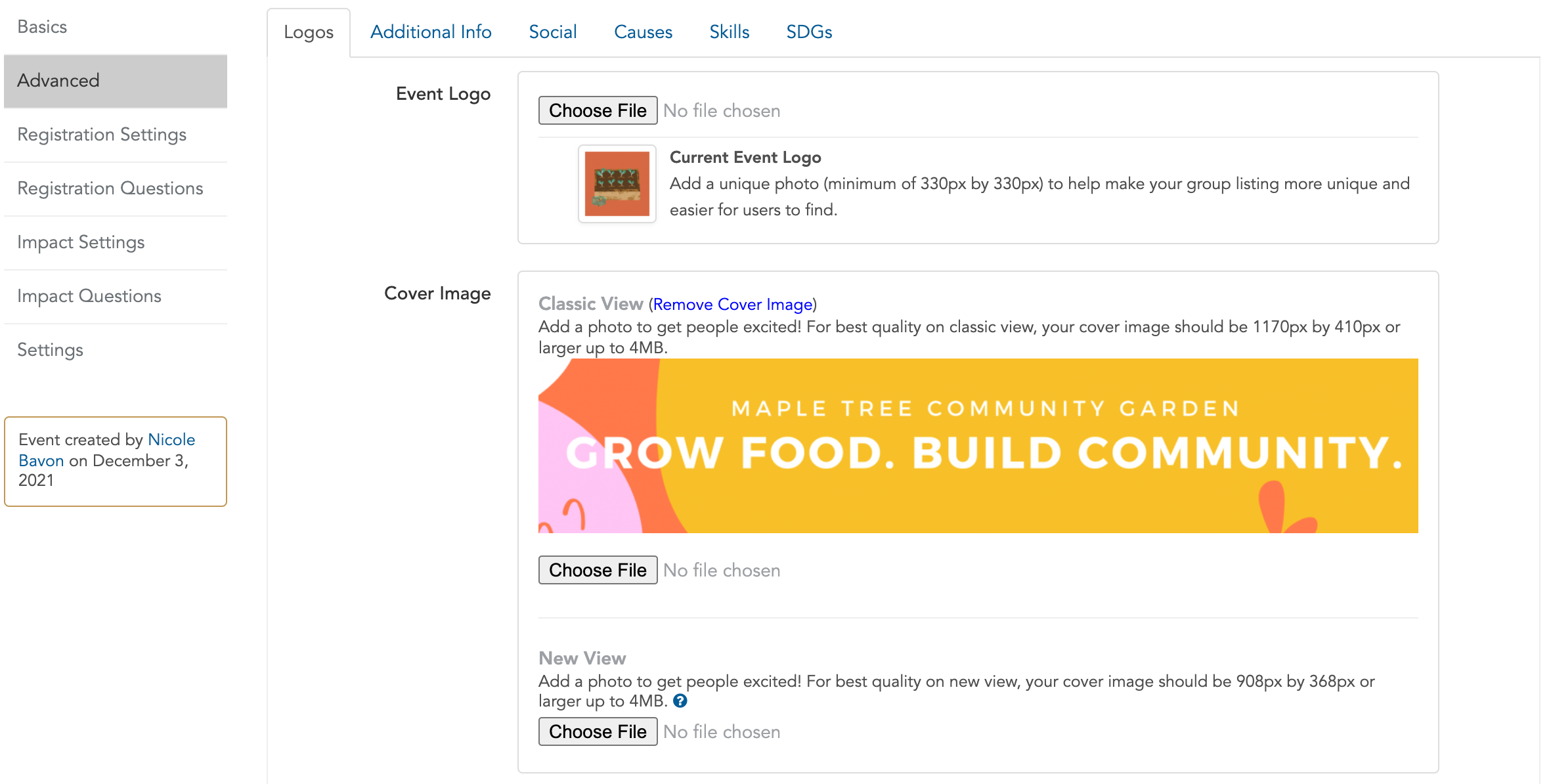 For more information on uploading event images in the new view, check out this article.