The group dashboard allows you access to all the navigation tools to manage your group. Here you access your users, events and impacts. Among many other tasks such as managing subgroups, affiliations, surveys, custom fields and more. 
To access the dashboard all admins for a group will see the blue Manage button under the name of the group on the group page. Clicking on the button takes you into the group dashboard. You can also click on the down arrow for quick links into the core areas for Manage Users, Events and Impacts.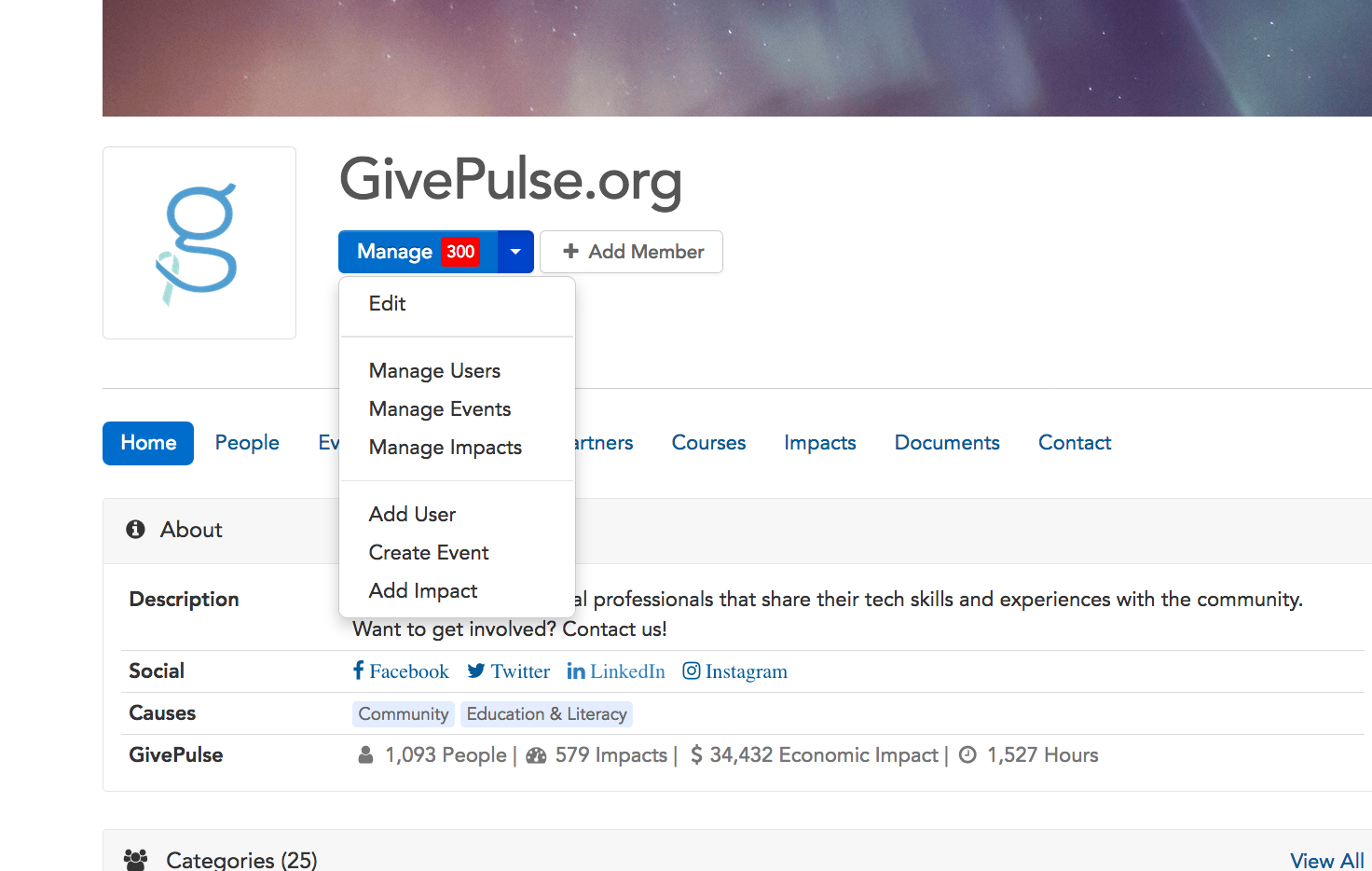 Once on the dashboard you will notice the sections Alerts (what needs your attention); Share - the short link shares the url to the group page for quick access for other users; Upcoming Events provides quick access to the related events of the group; Quick Stats gives you an overview of your activity, etc.
Notice the navigation menu on the left-hand side provides you the options to Edit Group information and to set up customizable features of your group under the Customize. 
The next section of the menu gives you access to the core areas of Users, Events, Impacts, (if a school users you will see the link to Academia), and finally Network. Under Network is where you find the ability to create subgroups and affiliates and manage these groups and relationships. 
The final section, depending on your level of subscription gives you access to create and manage Surveys and Internships. If your group is using Points, here you can manage the Points for your users. Finally you will find Resources - here you will locate the ability to Manage custom fields, tags, documents, widgets and more.
To tie banking information to your group profile to accept donations and sell tickets/items you add that information under Payments. Under payments is also where you manage all your transactions and issue refunds.
Billing is where you will find the details on your account, your current subscription level, invoices issued and payments made to GivePulse.