This article contains the following sections:
The group dashboard allows you to access all the tools to manage your group of users, events and impacts. Specifically, you can access your users (volunteers, donors, staff, members etc.), events (single day and ongoing opportunities) and impacts (hours, dollars and outputs). In addition, you have the opportunity to manage subgroups, affiliations, surveys, custom fields and more. We broke these main areas down for you below:
Users

(volunteers, donors, staff, and members)

Events

(single day and ongoing opportunities, fundraisers, a

nd ticketed events)

Impacts

(hours served, dollars donated and outputs)

Subgroups

(programs and departments)

Affiliations

(partnerships)

Plus,

surveys, custom fields and more!
Note: If you do not have a group to manage, feel free to create it, or find your group. If you are tax-exempt nonprofit, you are able to search for your group via your EIN or Tax ID.
Accessing Your Dashboard
To access the dashboard, you must log in and be granted administrative access for a group. If you have administrative access, you will see the blue Manage button (as shown below) under the group's name on its page. Clicking on the button takes you into the group dashboard. You can also click on the down arrow, located on the right side of the button, for quick links into the core areas of Users, Events, and Impacts.
Classic View: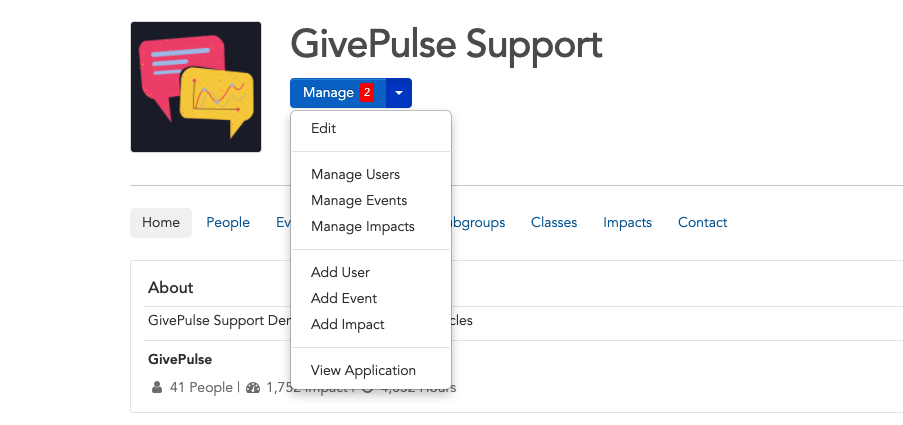 For the new view, you'll click on the blue manage
New View: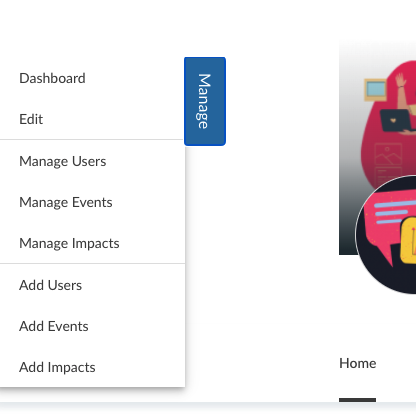 Dashboard Homepage
You'll first notice a few organization and communication features on the dashboard homepage.
Alerts- administrative items that need your attention or review

GivePulse Alerts- important messages from GivePulse to admins

Share- a custom short link for group's url page that you can share out on social media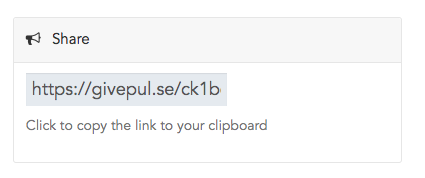 Upcoming Events and Calendar - show events that are coming up for your group and links to access the event pages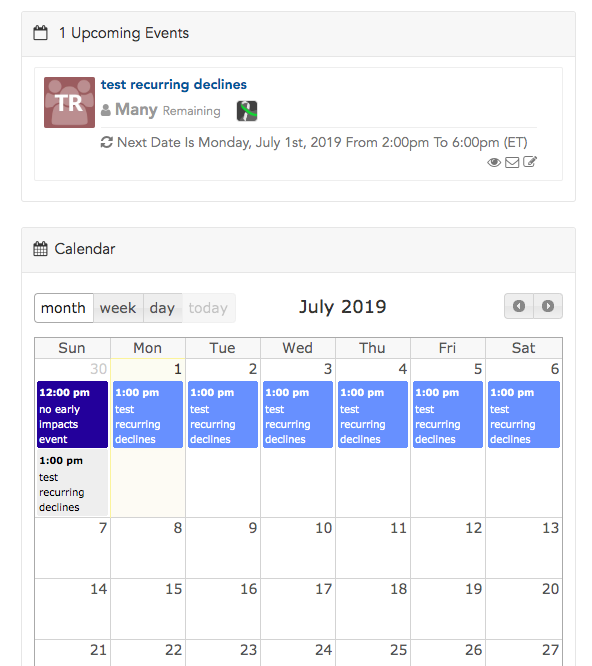 Quick Stats, Point Leaders, and Recent Activity - give you an overview of your group's activity and engagement with users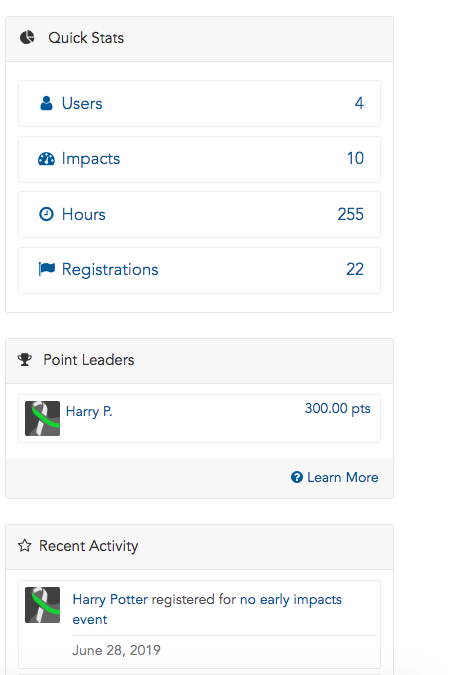 Navigation Menu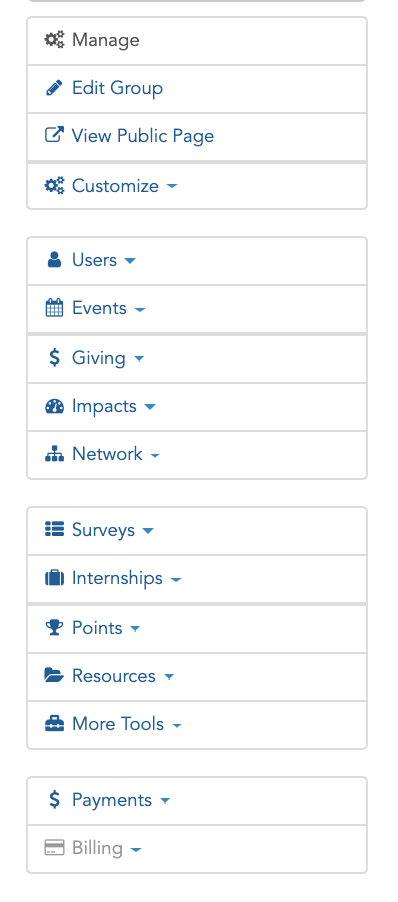 The first section of the menu allows you to edit and view the basic page structure for your group. Clicking "Edit" provides you the options to edit basic group information including address, causes, contact information, and more. You can view your public page by clicking "View Public Page," and can set up customizable features of your group under the "Customize" tab. These features include settings for all impacts made with the group, settings for all events registered with the group, and, for platinum subscription users, email templates and whitelabeling options.
The next section of the menu gives you access to the core areas of Users, Events, Impacts, Giving, and Network (and, if you work with a school, Academia). This is where we will navigate how your users are able to use the page to record hours and interact with events. Under Network you will see the ability to create and see subgroups and affiliates, and to manage these groups and relationships.
The third section provides additional helpful resources. Depending on your level of subscription, this section may allow you to create and manage Surveys and Internships. If your group is using Points, you can manage the Points for your users in this section as well (for more information about points, see here. Lastly, you can use More Tools to develop custom fields, tags, documents, widgets and more.
The final section allows you to tie banking information to your group profile. Click on "Payments" and add your information in order to accept donations and sell tickets/items. You can also use Payments to manage all transactions and issue refunds. Billing provides the details pertaining to your account, your current subscription level, invoices issued and payments made to GivePulse.