GivePulse provides several ways to record and produce reports of student outcomes. On GivePulse, "Impact" is used as an umbrella term to describe all potential forms of community engagement. An impact can be described as funds donated, funds raised, goods donated, hours trained, and, most often, direct service hours.
Using Manage Impacts, you can collect outputs to measure community impact. The following are some outputs generally collected:
Service Hours

Reflection (review, testimonial, analysis, tweet, etc.,)

Star Rating

Custom Fields and Metrics pertinent to the task at hand (e.g., presentations, reports, service logs, etc.,)
GivePulse offers a platform to collect all outputs and enable you to make sense of the outcomes in the community. Depending on how you intend to leverage the system for your mission, GivePulse will help you collect pre and post surveys, request feedback to refine a program, empower individuals to track their impact, and most importantly give you the tools to assess and understand the impact.
You can export a report of this information directly through GivePulse with the 'Export' feature.To export all the data on impacts or reflections, you may go to "Impacts", and export the option you wish.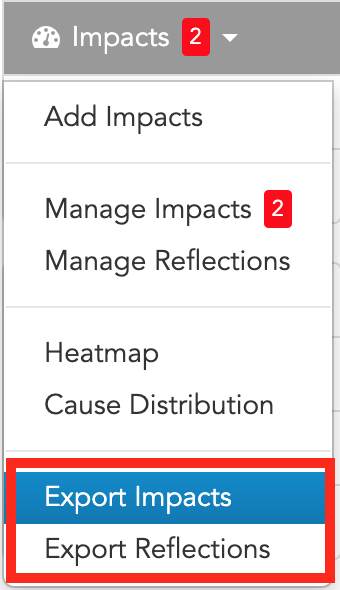 You can also filter and sort the 'Manage Impacts' screen and export only the information you wish to see.