If you are an admin or event manager looking for a single place to see registrants, impacts, and details for your event, there is a specific Event Dashboard to provide you a one-stop-shop.
Depending on the type of Event, you will have a dashboard giving you a summary of the event along with some key details and information related to the event.
There are two primary workflows to access the dashboard of your event.
Top-Right Navigation
The first is to click "Manage" > "Manage Events" from the top of your screen:

You will then be brought to a page with all of the events that you manage. You can find the event you want to manage and then use the far right Actions drop-down to select "Dashboard."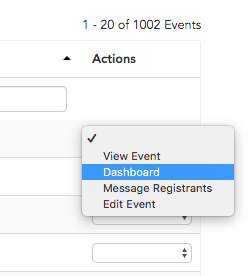 Group Dashboard
You can also use the Manage Events page from your group dashboard and click on the name of the event you want to manage. Using this workflow will restrict the events you see to only events in a single group, which may be helpful if you are an admin for multiple groups.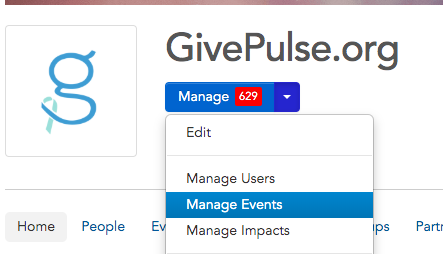 From the event page, you click "Dashboard" from the admin panel on the right side of the event description.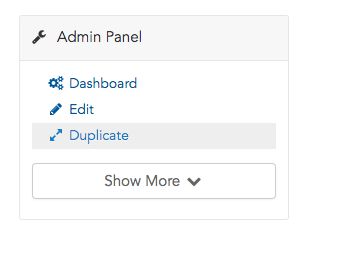 Below is an example of an event dashboard: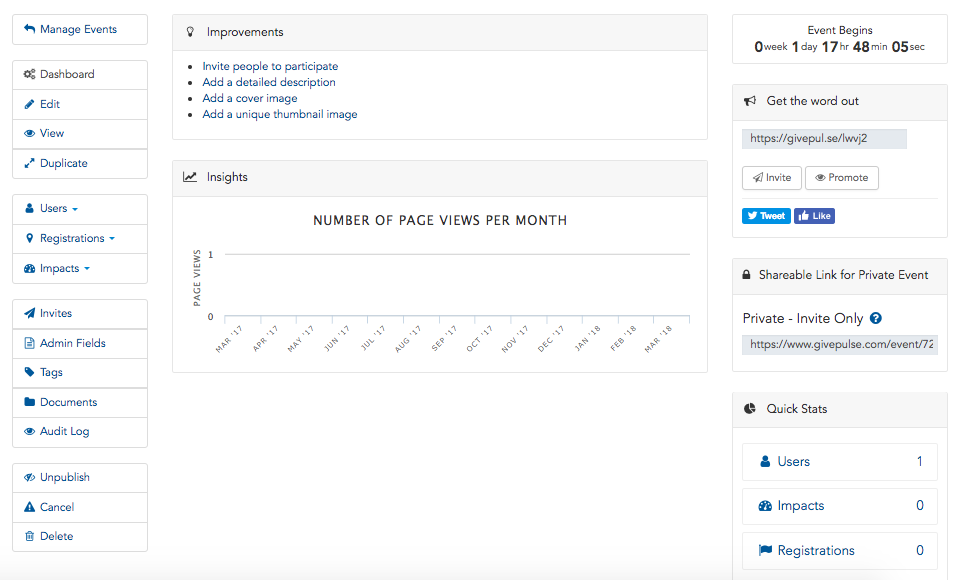 Some key highlights:
On the left of the dashboard: Similar to the Group Dashboard, there are some key areas to help you Edit, View or Duplicate the event. You can also learn about and manage registrations, users, and impacts associated with this specific event.
At the top of the screen, we offer improvement suggestions based on the configuration and event setup.
To Cancel, Delete or Unpublish the event, you can use the quick links on the bottom left.
Other capabilities include some high-level statistics on page views and other interactions, in addition to shareable links and the event's status on the right hand side.