If you are looking for a single place for event managers or even for you to see the status or details of the event, there is a specific Event Dashboard to provide you a one stop shop.
Depending on the type of Event, you will have a dashboard giving you a summary of the event along with some key details and information related to the event. 
To access the dashboard, you can navigate to it via the "Manage Events" of your group, or if you are a specific even manager, tasked to just oversee this one event, you can quickly navigate to the events you oversee by clicking "hi yourname", hovering over "My GivePulse" and selecting "Events I Manage" as shown below: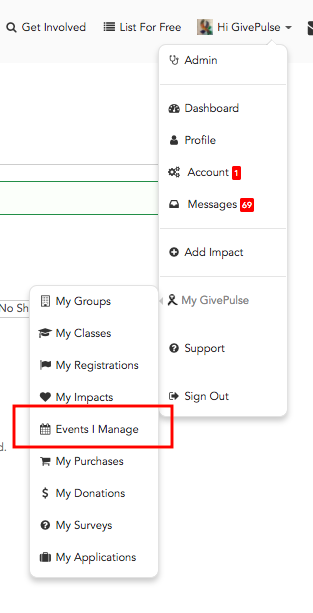 This will then give you the option to select the specific events you want to oversee and click into the details of them. 
Below is an example of an event dashboard: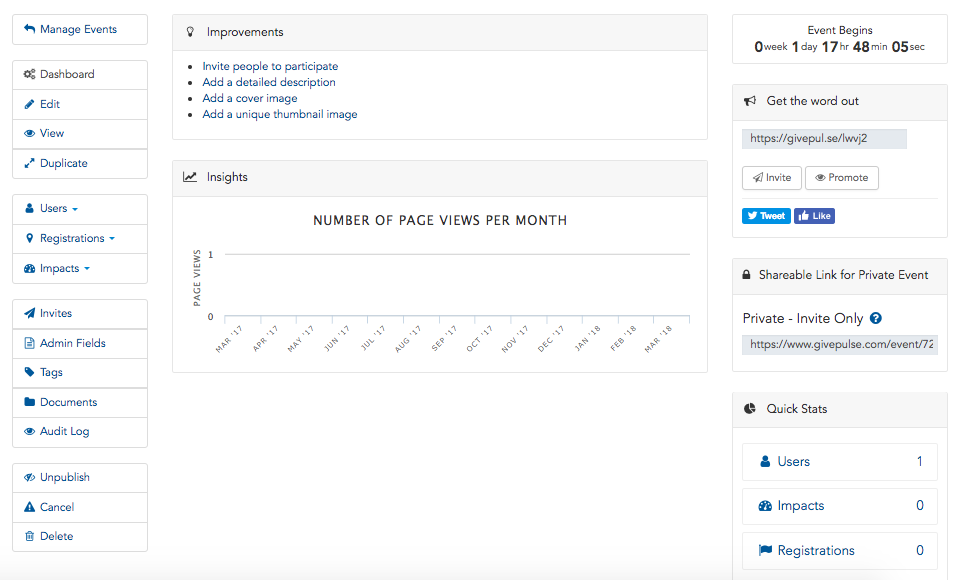 Some key highlights: 
On the left of the "dashboard: Similar to the Group Dashboard, there are some key areas to help you Edit, View or event duplicate the event. 
At the top, based on the configuration and event setup, we are able to infer what you as the event administrator should do to improve your event details. 
To Cancel, Delete or Unpublish, those actions are in the bottom left. 
Other capabilities include some highlevel stats on page views and other interactions, in addition the links to share and the event's status is on the right hand side.