This article contains the following sections:
Affiliates Defined
An affiliation (or community partner) is when one group displays all or some of its events on another group's page. For example, if you are a school or company and you want local non-profits to list all of their events on your page so that your students/employees can find good quality events that you trust, you can request that they be affiliates of your organization. This is a great way to build a community between your organization and other local organizations. 
Note: You may always remove or deselect specific events and opportunities even when they are approved to display all their events on your group page.
List and market your group to a larger audience by affiliating
To create an affiliation, navigate to your group admin dashboard and click Network from the left-hand menu. From there, select "Manage Affiliations."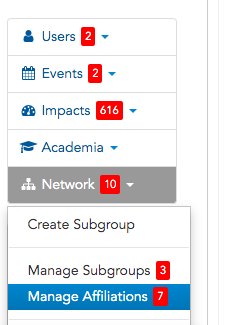 From here, you can click the blue action button and select "Add Affiliation".

You will then be able to either search through existing groups and click the green "Affiliate" button to create an affiliation, or select "Can't find them?" to create a new affiliate group: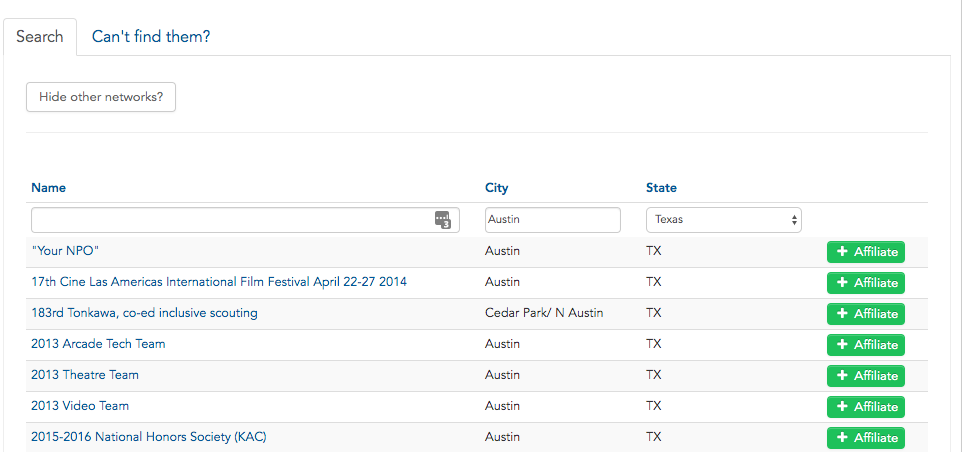 If you are an admin of the group you are trying to affiliate with, you can go onto the page of the group you are trying to affiliate to and click the "Affiliate" button next to the group profile photo, above the description, and next to the group title. You will be brought to a page where you will select which group you want to affiliate with the group's page you are on now (if you are an admin of multiple pages).
Classic View: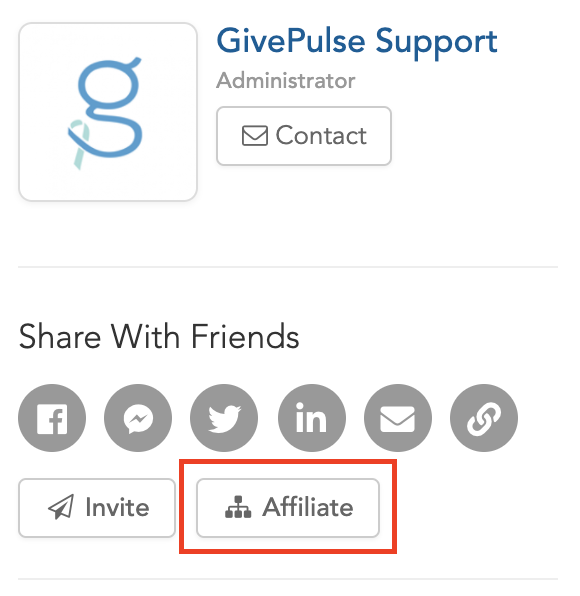 New View: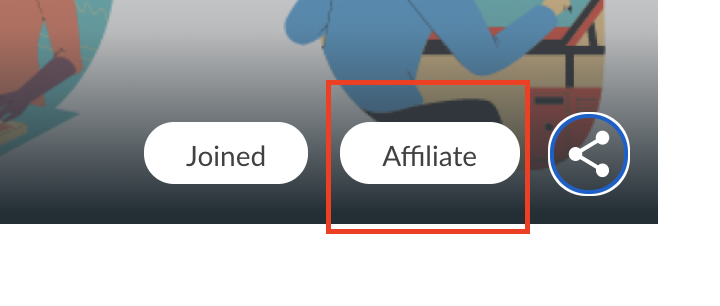 In either case, you will then choose one of three options: 1) Show their events on my page and my events on their page 2) Only show my events on their page 3) Only show their events on my page
Show their events on my page and my events on their page

: This allows you to promote your events on their page and vice versa. 

Only show my events on their pag

e: You are requesting to share the events created by your group onto their group page.

Only show their events on my page

: You wish to promote their events onto your group's page.
A request will be submitted with any of these options and you will be notified of its approval or decline. In addition, admins can add specific affiliate request questions for you to answer as well. To learn more about customizing affiliation requests, click here.  
Subgroups affiliations
If you oversee a network of subgroups, each subgroup may have their own affiliations, but the affiliations do not roll up to the parent hierarchy, nor do affiliations from the parent group roll downwards to their subgroups.
Manage affiliations
To manage affiliations, you must be an admin of the group. On the navigation bar go to "Network" then "Manage Affiliations." Here you can see your affiliations, what information each party is displaying, who requested the relationship, who approved the relationship, and communication action items. 
Using the action dropdown to the far right of each affiliate, you can toggle which group hides/shows events, view the group's page, and cancel the affiliation. If you are the admin of the affiliate group, you can also manage the affiliate group from this drop-down.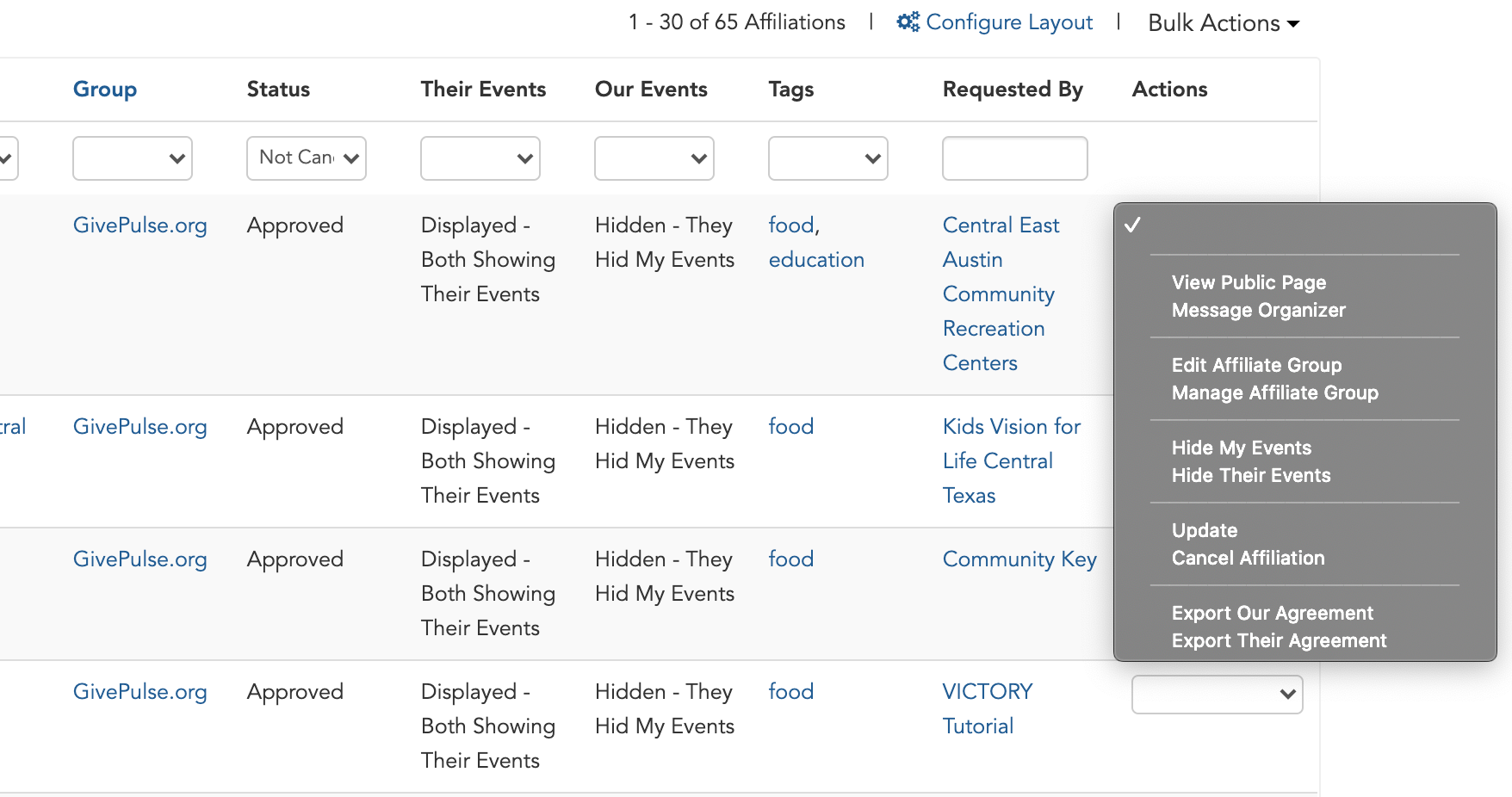 If another group has requested to affiliate with you, you will see them on this page with the status "Not Yet Approved," in which case you can approve or reject the affiliation through the action dropdown as well. 
Note: Private events are not listed for affiliates.
Track referrals from your affiliates
If you affiliate and have events show up in other groups, you are able to determine the success of your affiliation. You can collect data within the group's admin side. On the navigation bar under the cover photo, click on "Events" and through the dropdown menu select "Referrals." Here you will be able to see the influence of your group in other groups' events.