GivePulse enables you the administrator to "archive" an existing user so that the data is still saved for your data collection purposes and it removes access for this individual. There are instances where existing users and members of your network or group are no longer active or you choose to temporarily inactivate them.
This article will review:
Archive: Archiving a user as a member preserves their GivePulse account without deactivating it. They can still log in and utilize their account outside of the archived group.
Remove: Remove a user means they are no longer a part of your group.
Delete: To delete a user email: support@givepulse.com.
Ban: Banning a user means blocking a user to participate in your group.
To archive user(s):
Go to your group's dashboard → Users → Manage Users → Actions → Archive member: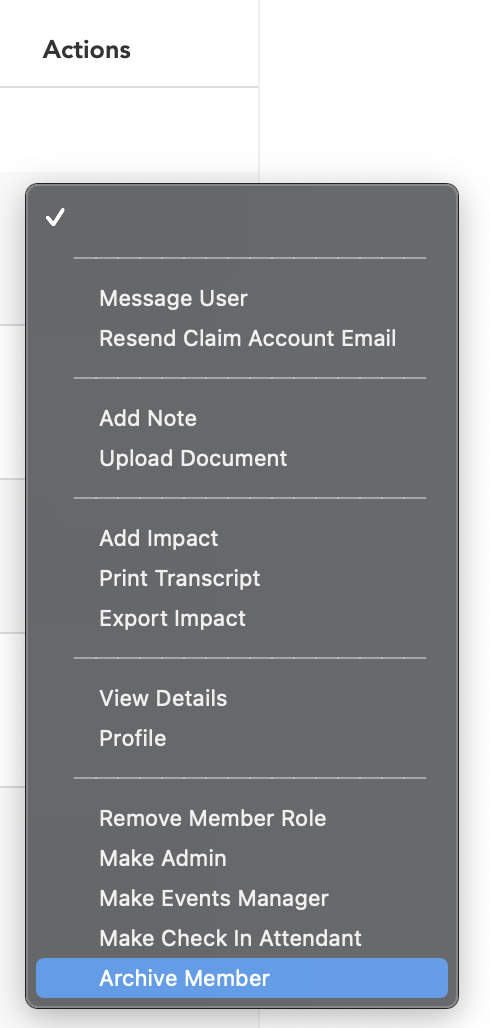 An archived user:
Is no longer a member of the group, which will remove them from group message lists and also makes it so they can't see private groups and can not view private events
They will not be listed on the public people page

Note that an archived user can always request to become a member again

This action removes member from Manage Users but they remain in Manage Memberships as archived

Archive action removes the roles:

Member

Manager

Check-in attendant

Admin

And sets the role Archived
To view archived users go to
Users → Manage Users → Actions → Archived Users:
You can select each user by checking the box and select Bulk Actions > Archive to Bulk Archive Users.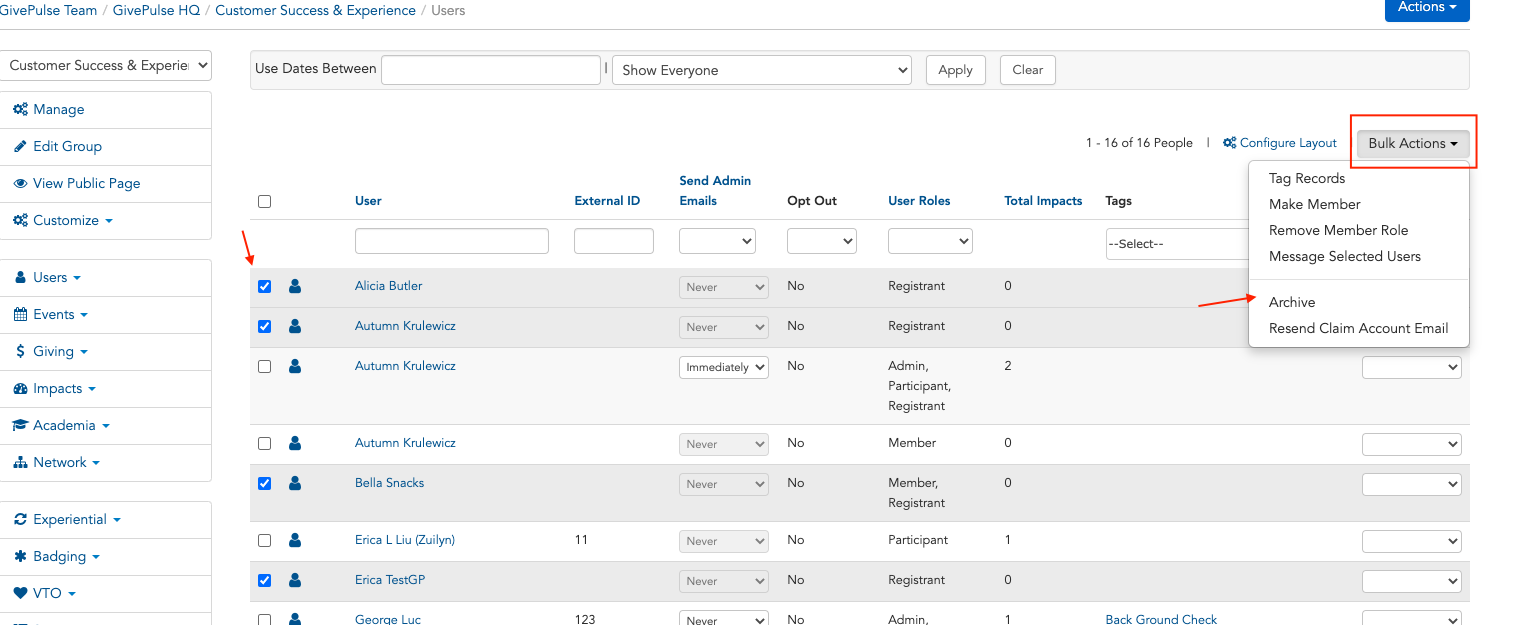 Here you can also unarchive a user and export any necessary information. Please note that when you message users, archived members are not included.

However, you can separately message archived users since they still have profiles. Additionally, archived users are also removed from lists and are unable to be re-added.
Lastly, archiving rolls down. If a user is archived from a parent group, they are also archived from subgroups. However, if they are archived from a subgroup, they are not archived from the parent group. Please note that even after archiving, users can still view your group and contribute impacts. If you observe new impacts or registrations from archived users, we recommend unarchiving them.

To unarchive members:
If you need to unarchive a member, you can do this by going to Manage Users > Blue Action Button > selecting Archived Users.

On this page, you'll see a list of all the users you have archived in your group. You can unarchive your members by going to the actions column and selecting "unarchive":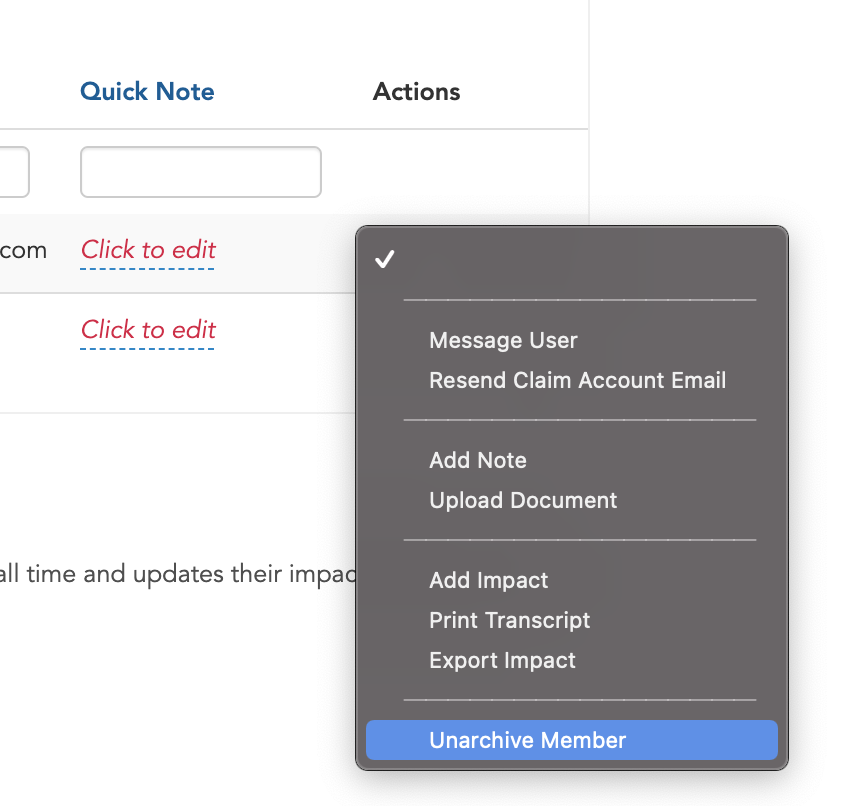 In the instance you want to delete/deactivate all traces of a user, please email: support@givepulse.com
Your group may retain traces of archived user data in various instances, such as being registered for an event or purchasing a ticket, as an admin, you would see it under User Memberships Manage page with roles like "Registrant" or "Ticket Buyer". These instances provide data on user interactions with your group, allowing you to oversee and assess long-term user engagement.
Note: Archived users will no longer be members, receive general emails, or appear on the management end, unless you specifically search for them in the archived section to contact or unarchive them.

Ban Users
Banned users have been restricted from accessing the platform or participating in any activities due to violations of the group, community guidelines, or terms of service. User accounts banned in a group are no longer permitted to engage or contribute to the group.
Admins can ban users for excessive 'No Shows' or any violations against the group's guidelines.

Here are instructions to Ban a User.

You will navigate to Manage Users and in the upper right corner of the grid, you will see the Blue Actions Button and select Banned Users

Then it will navigate to a new page, Banned Users. You will move to the Blue Button labeled "Ban New User"




When you click Ban New User, it will take you to a new page and you can select the member in your group in the drop menu 'Name' and you can type notes in the Reason box. Once you are finished, you can click "Ban User Now" to save.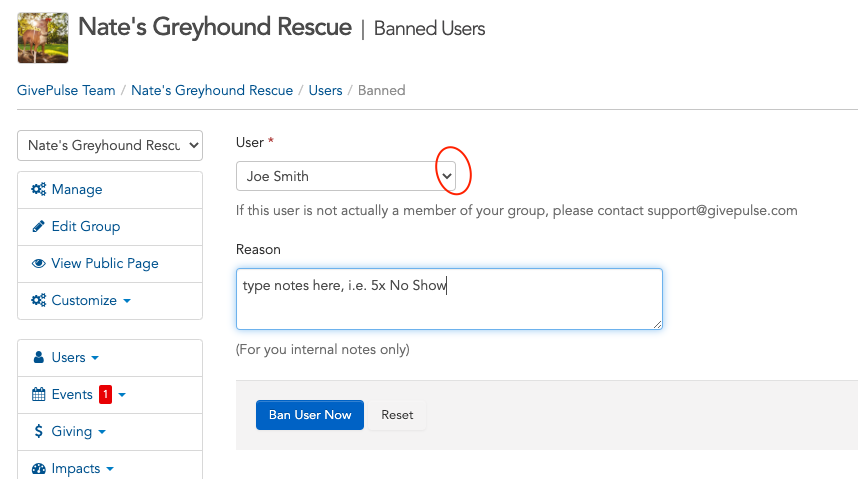 If you decide you wish to Unban a user, you can navigate to the same Banned Users menu and select the drop Actions menu and select "Unban User"





If you have any further questions about Manage Users please submit a request: https://support.givepulse.com/hc/en-us/requests/new