GivePulse has many capabilities for administrators to add liability waivers and custom questions for when users register for an event. These custom questions may ask for things like phone number, t-shirt sizes, or anything else that the admin may want to gather as data for their records.
In addition to adding these questions, administrators can adjust whether users have to login before registering or are able to instead register as a guest.
There are also situations in which the administrator of the event can decide to allow an attendee to bulk register additional people.
All of these options can be added during the event creationworkflow.
All of these scenarios could add steps to the registration process. To provide more clarity for those registering to the event or opportunity, there are registration steps to guide the user.
Take the following examples of what a user would see when registering:
For a simple event, users will not see any steps. But for a semi-complex event in which they have to fill out custom fields (like t-shirt size or phone number), they will see the steps shown below.

For a more complex event requiring the user to agree to the waivers and fill out additional questions, they will see something similar to the following: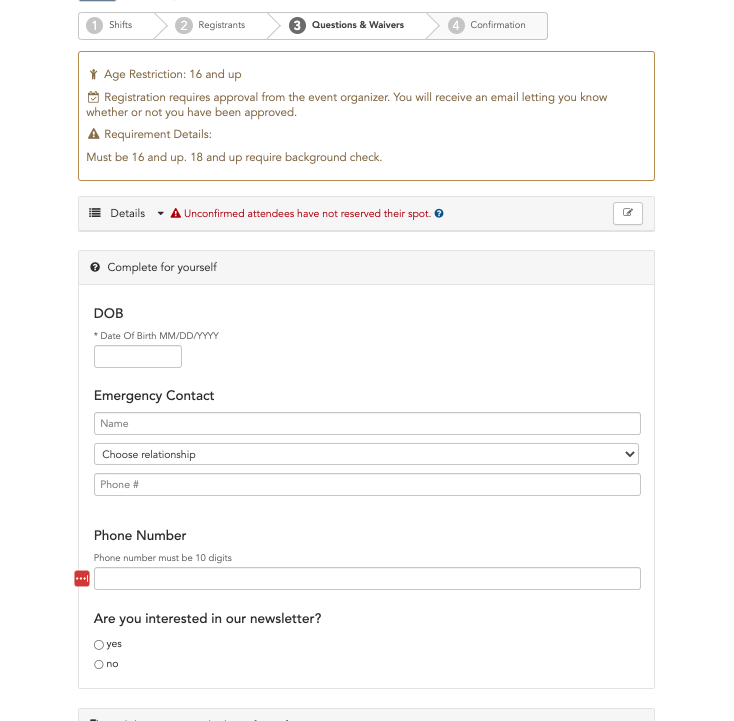 For any further questions feel free to reach out to us via support.