Updating your administrative notifications
If you have admin roles for any group, you can update how often you receive key admin updates from your groups. First, navigate to the notification center from your Dashboard -> User Account settings -> Notifications.
As shown in Box A below.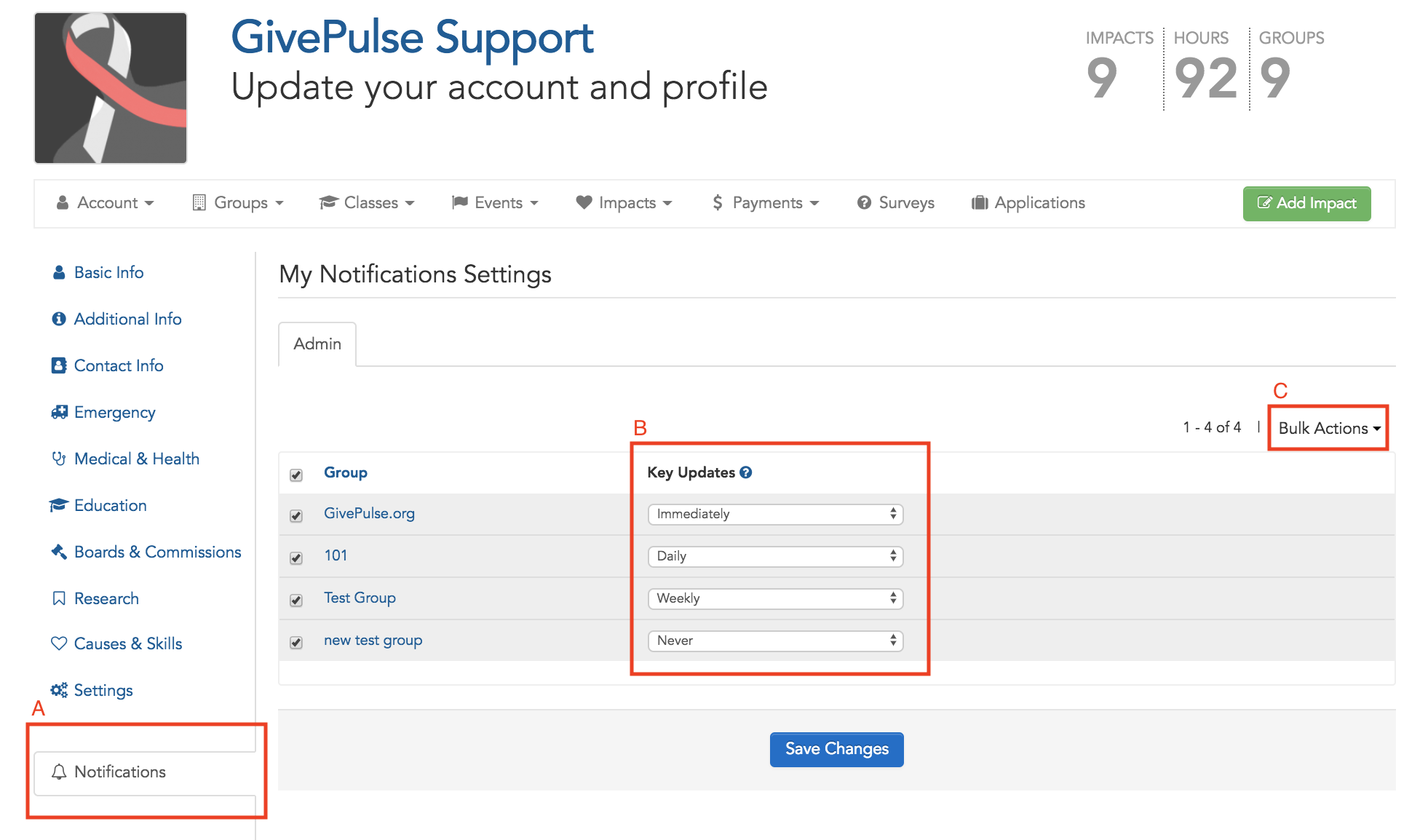 In Box B, this is where you can toggle your notification frequencies per group and hit Save Changes. The hint (?) button tells you the specific notifications and selection types you will be updating the frequencies for:
Key Updates Notification Types:
New Impacts

New Registration Approvals

New Membership Requests

New Registrations

New Memberships
Selection Types
Never - Never receive notifications for the notification types listed above

Immediately - Receive notifications immediately

Daily - Receive a consolidated key update report once a day

Weekly - Receive a consolidated key update report once a week
The daily key update report is sent out every morning for key notifications accumulating from 24 hours prior to the report. The weekly key update report is sent out every Sunday morning for key updates accumulating from 7 days prior to the report.
We also added the option to bulk change the frequencies of these emails in the Bulk Actions dropdown in Box C.
Updating other Admins' notifications from Manage Users
As an admin of a specific group, you can also update these notifications for other Admin users within Manage Users of the group. These changes will update that user's account notification settings in what we saw in Updating your administrative notifications above.

Email Key Update Reports
Below is an example of what a Daily Key Update Report looks like. There are two sections: Actionable Updates and Summary Updates. These sections help admins easily access notifications they need to take action on versus summaries they can review.