Spotlighting is a way to highlight another group (including affiliates, subgroups) an event, a cause, or an outside project on your group's page. When you spotlight something you can upload a unique image, title, and text to display.

You can choose up to 10 different things to spotlight. They will show up in a slideshow viewer that automatically transitions every 5 seconds.

To spotlight on a group's page, you must have admin privileges for this group. Go into the group dashboard and click "More Tools" on the left side. In the dropdown menu, select "Spotlight."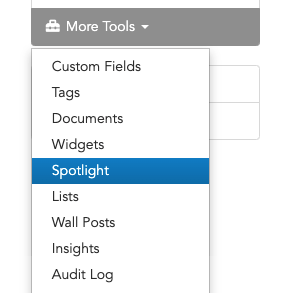 On that page click "Create New Spotlight" (the blue button on the right).



Next, you'll need to select what you are spotlighting. If it is an event or group in GivePulse, some information will be automatically filled in for your convenience. Upload the image from your computer to be displayed on the front page of your group. All spotlight images should be 870px by 300px and can be either JPG, PNG, or GIF format. The title and text will be displayed as shown: