This article contains the following sections:
Message Users
GivePulse offers many automated messages that are sent to certain subsets of your users. For example, registrants for events can receive automatic registration confirmations, reminders that the event is coming up, and reminders to record their hours (impacts) after the event is over.
There are also instances you might prefer to send a specific message to a certain subset of users. select or search for a subset of individuals and mass communicate with them. To do so, you can use the blue "Actions" button on any page with a list of users!
For example, if you go to Users > Manage Users from your group dashboard, you can sort users using any of the columns in your configured layout and then click Actions > Message Users to message the specific subset of users that you have sorted.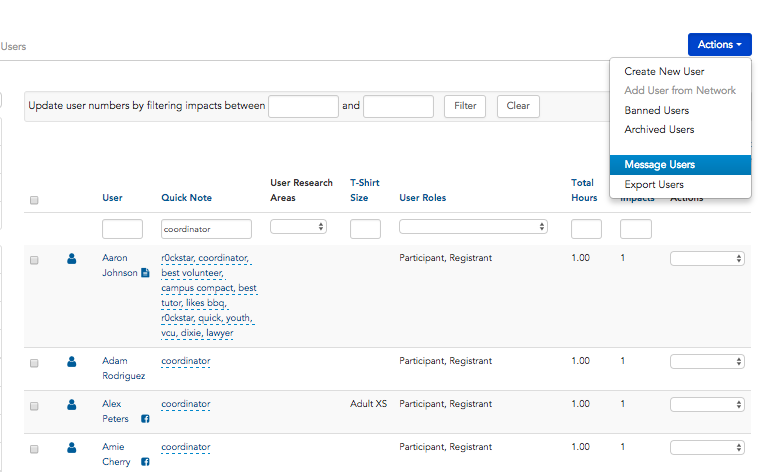 To recap, you simply have to get to one of the Management pages (Manage Users, Manage Registrants, etc.) and then:
Use "Configure Layout" to determine your subset of users.
Click "Actions."
Click "Message Users."
Type out your message.
Send!
For instances where you want to select a set group of people for a listserv that you anticipate using regularly, you can check out our listserv (list) abilities.
Message Registrants