If you are an administrator for a group, you might be wondering how to best utilize all of GivePulse's capabilities, so we created this quick guide for you! With this guide, you'll learn how to create an event, manage your users, and manage impacts, and create a survey.
After logging in, you'll want to use your navigation tool bar at the top left of the screen to select Manage and select your group.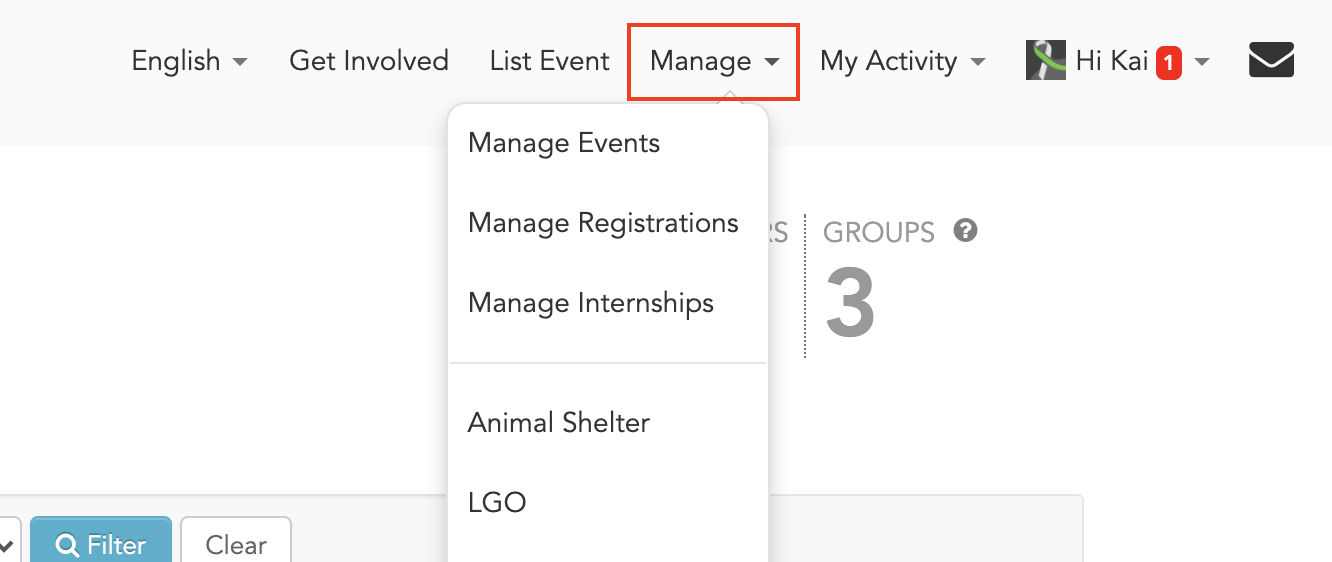 After selecting your group, you will be taken to your Group Dashboard. This is where you will be able to fulfill all of your administrative duties for this group. To create an event for your group, you can use the left menu to select Event > Add event. From there, you will complete the event workflow then publish when the settings are configured to your liking. You can learn more about creating an event here.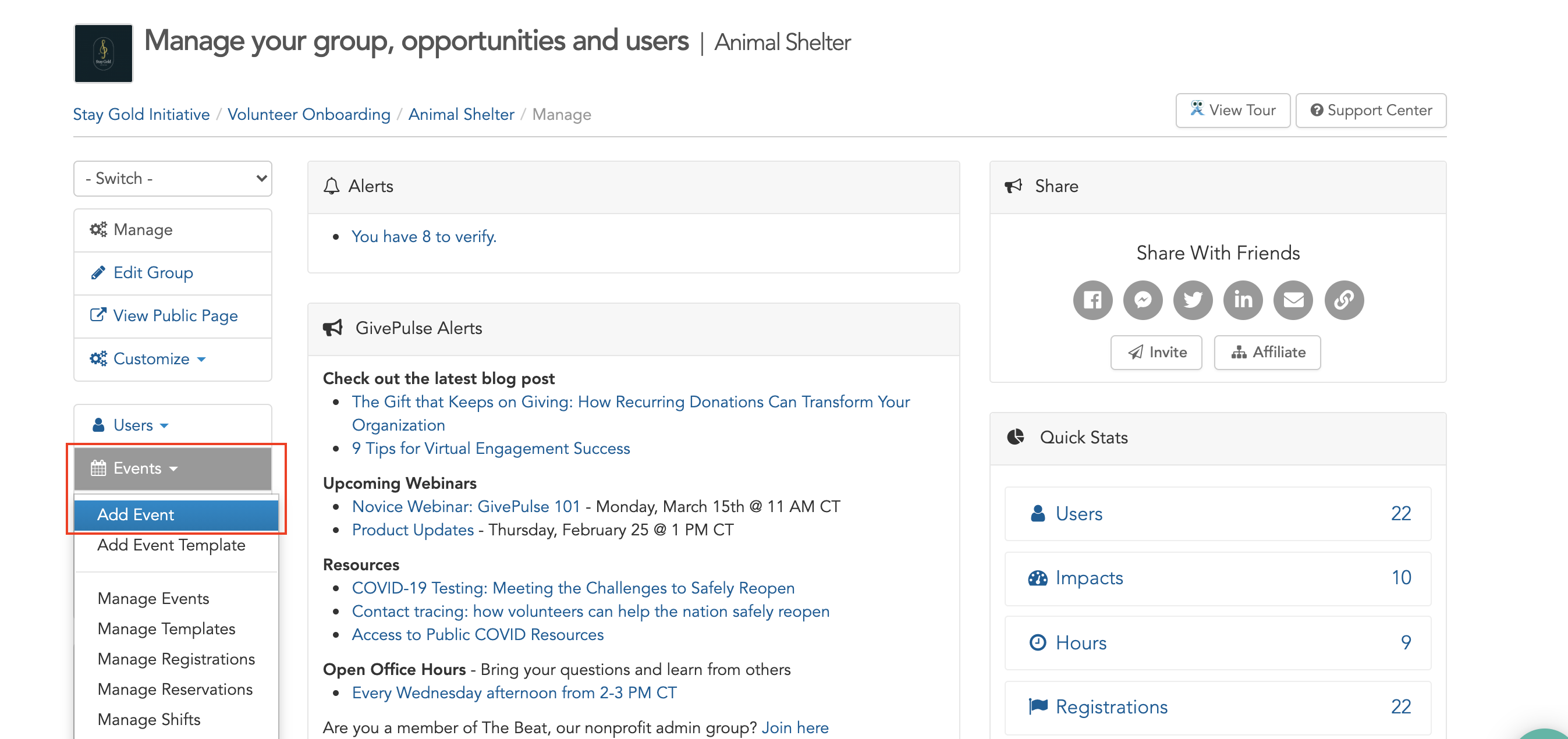 After users have registered for you event, you will be able to see their registrations via Events > My Registrations. This is where you can see what day, shift, event, etc. users have signed up for. If you are viewing My Registrations from your general group's dashboard, you will see the registrations for the whole group, however, you can use the filtering options to configure the specific information you'll need visible.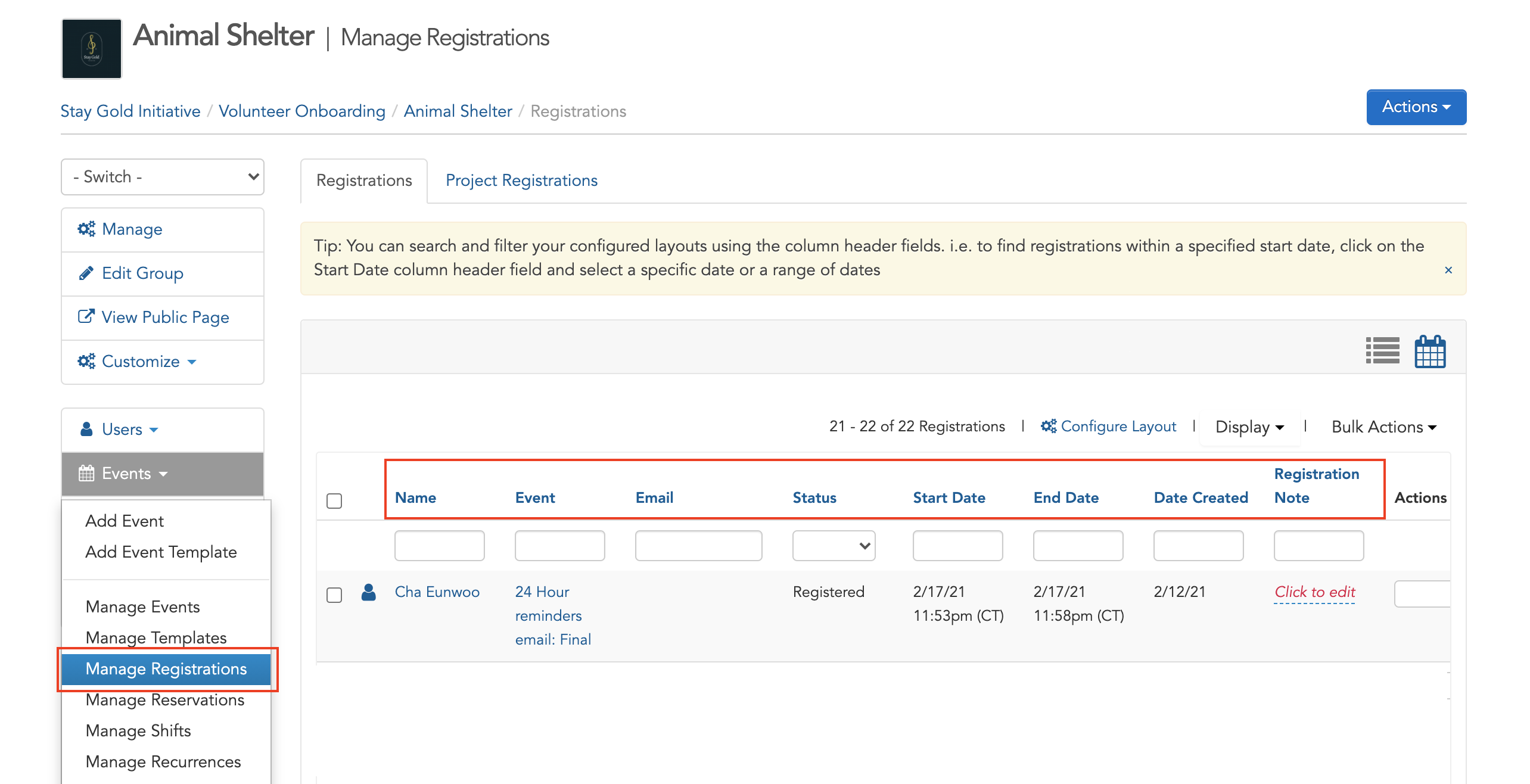 To manage your group's participants and members, go to Users > Manage Users. Here is where you can see their names, emails, role within the group, and much more. You can use the "configure layout" setting to choose the specific information you would like to have visible. Using configure layout is also helpful for sorting through your user's information for reporting purposes. You can learn more about reporting within GivePulse here.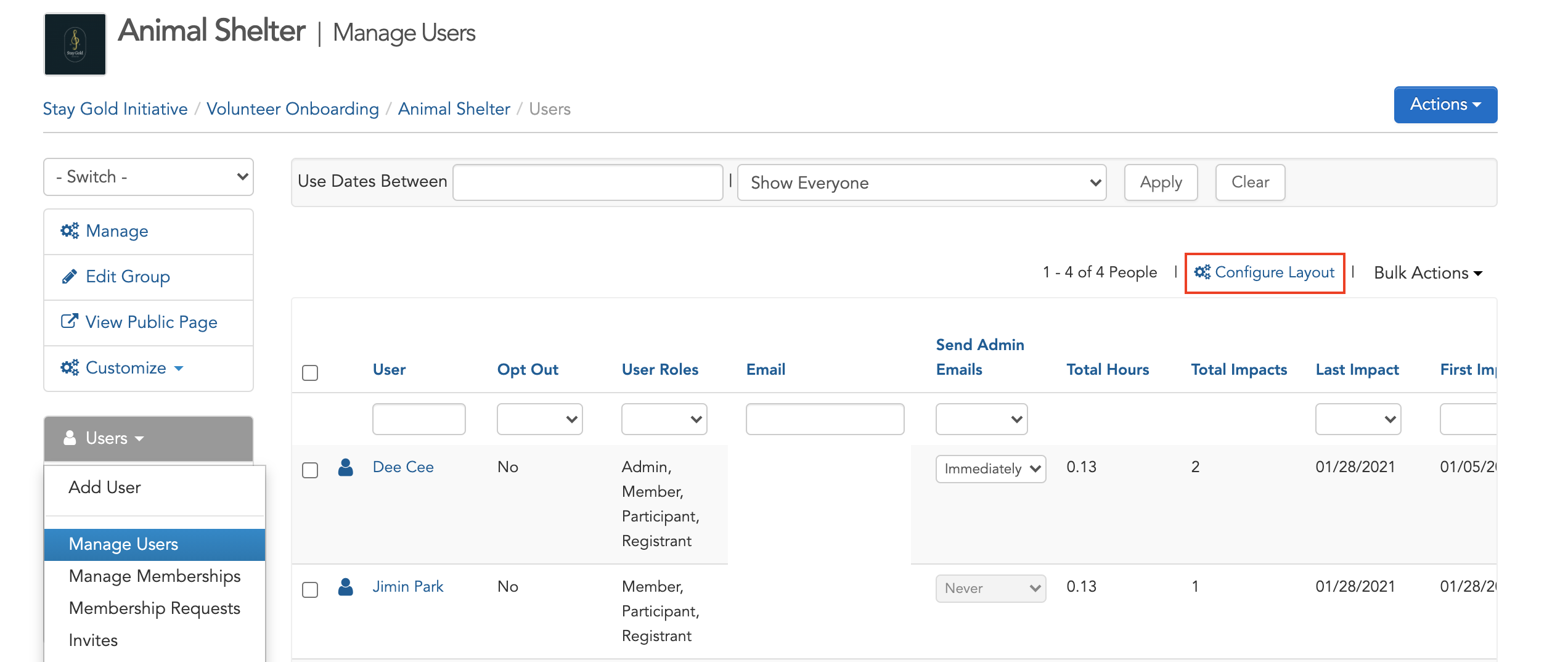 In addition to managing users who participates in your opportunities, as an admin, you have the option to add your own users via Users > Add a User. You can add a single user or use the import option to upload a csv with your user's names.
Now that you have created your events and managed your users, lets take a look at managing your impacts. Impacts is a word we use to describe the community engagement activity (volunteer work, donation of money, donation of goods etc.,). All of your group's impacts will be accessible via Impacts > Manage impacts. Similar to managing users, you will be able to use the configure layout setting to sort the columns you would like to see.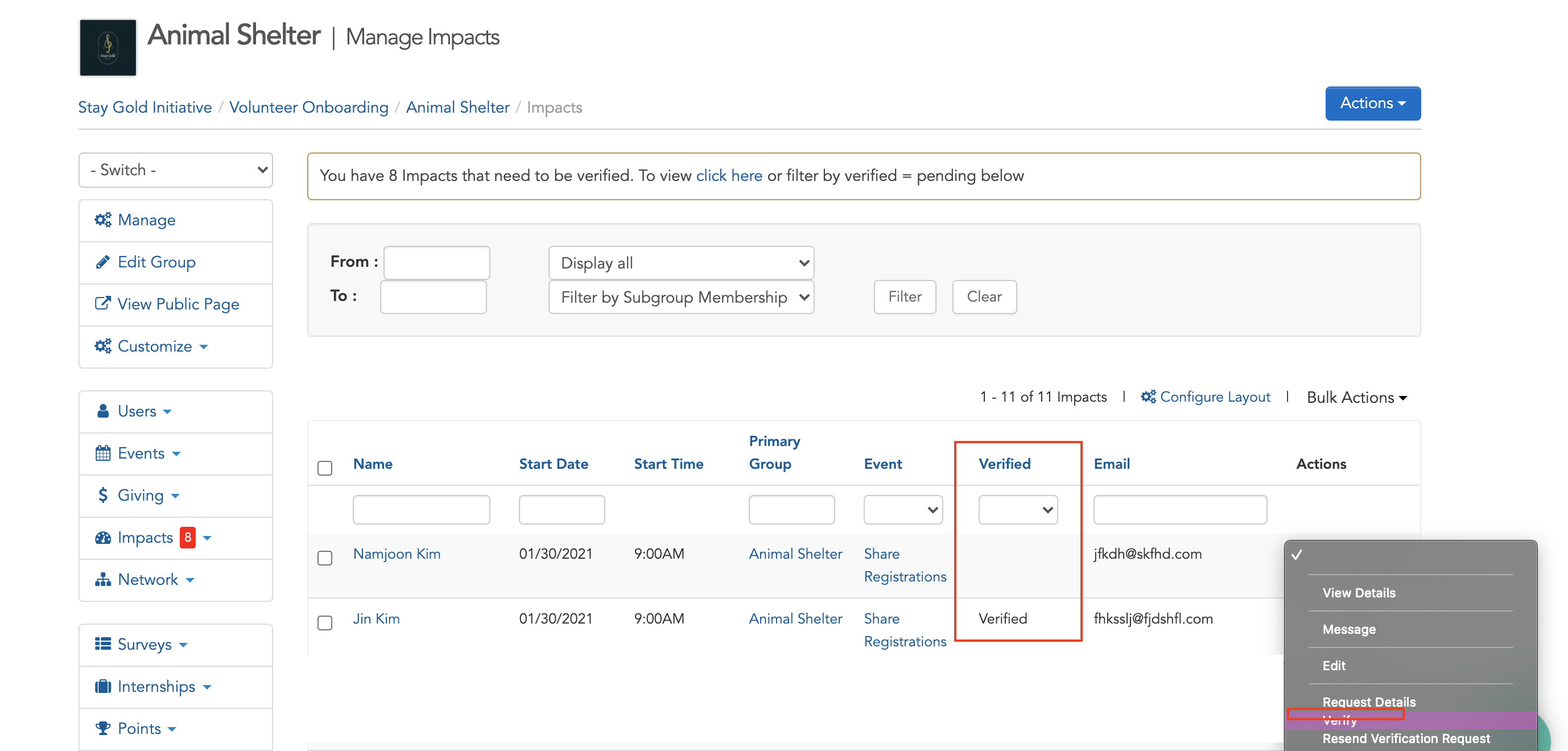 As an admin, there are a few ways to verify these impacts. If you receive impact verification emails, you can do so by selecting "Yes to verify" within the email itself. Additionally, wherever you see 'Manage Impacts' any pending impacts will be visible for an admin to verify. You can do this by using the options in the Actions column. And lastly, you can verify impacts via the GivePulse mobile app by signing in, clocking in/out, or scanning QR codes for users. You can read more about verifying impacts here.
Lastly, as an admin you might want to collect information from your users by sending out a survey. To create a survey, use the left menu to select Survey > Add survey. Once here, follow the survey workflow by adding a logo/ description, configuring the settings, and adding questions. You can use the invite function to send these surveys to specific groups within GivePulse or just simply message out the link. You can read more about surveys here.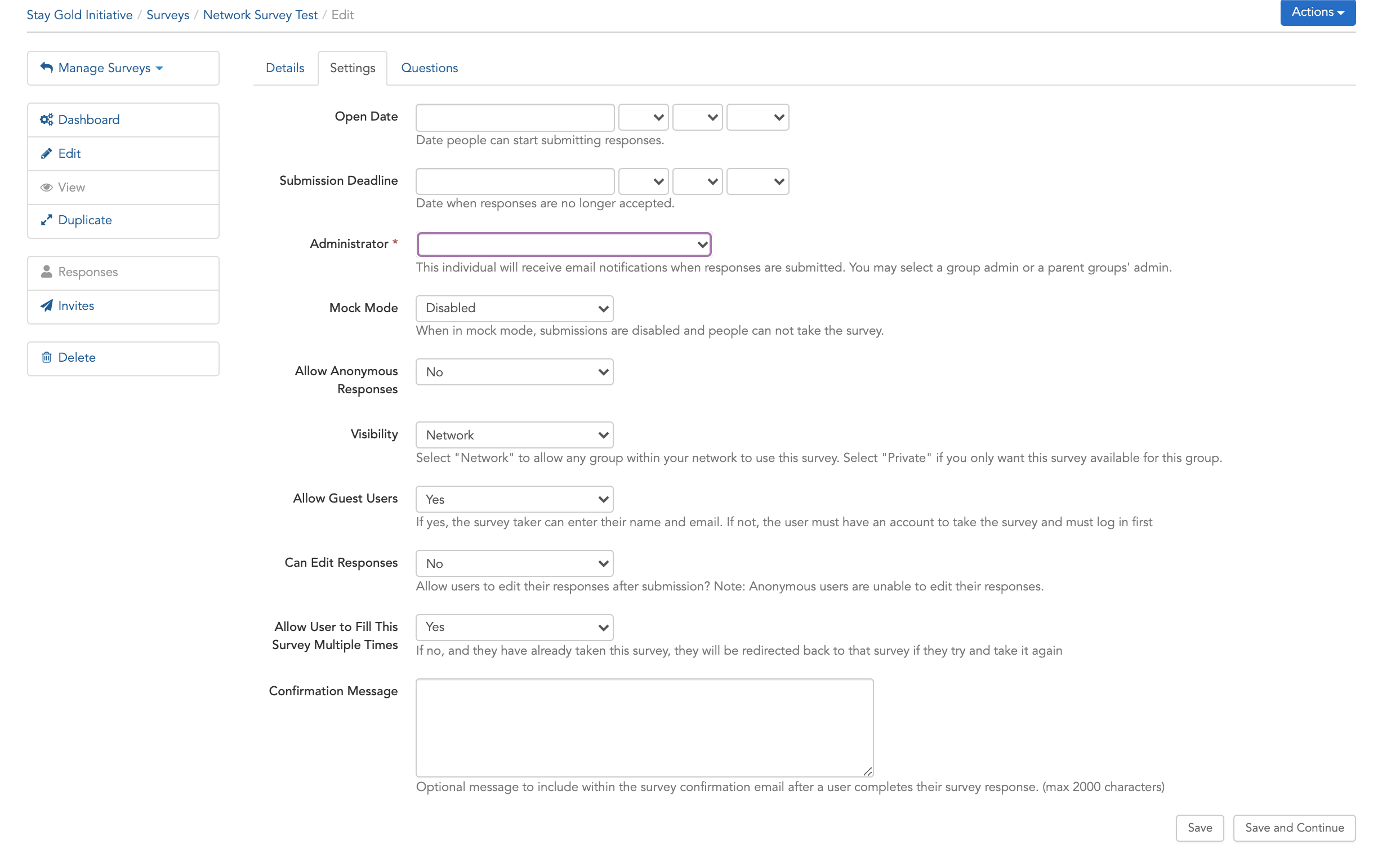 We hope this article helps you on your path to becoming a power administrator for your group. In addition to this resource, we highly recommend utilizing our GivePulse Tutorials Playlist. Here you can watch videos detailing how to navigate the site and perform certain functions. Additionally, if there is a program, event, or another use case that you are not sure about how to set up on GivePulse email us at support@givepulse.com and we can help guide you.